Here's what you get:
Round Light Reflector with five reflector with carrying case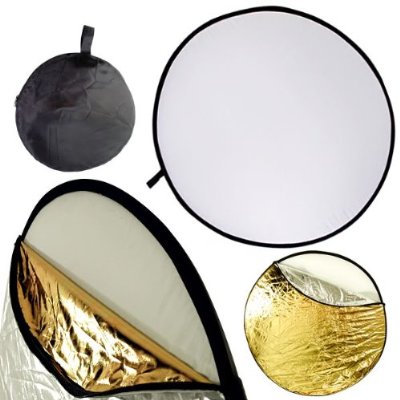 This 43″ Round Disc Light Reflector has so many uses for photography and video. The primary use is to reflect light onto your subject. You can use a Translucent, Silver, Gold, or White disk. Silver will give you hard light, white and translucent will be softer and gold will be warm. There's also a black disk to block unwanted light.
This very clever design is five disks in one. The disks collapse into a 15″ disk that's soft and about two inches thick. So this is very portable. Unzip the case (included) and the disk pops open to a 43″ giant reflector disk. A simple twist and fold and it pops down to the 15″ size again.
This is a very helpful light source for outdoor shooting. It gives you the fill or key light you need to properly light a face or any subject. It works inside beautifully as a fill light. You can mount it on a stand or handhold it. Or block a bit of sunlight that is too bright.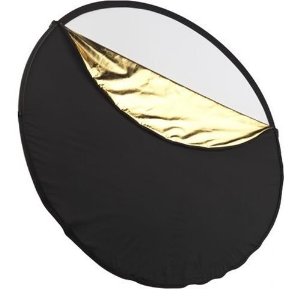 Replaces bulky reflectors indoors too. In fact it is one of the recommended tools in "How To SetUp, Light, and Shoot Great Interviews."
This is one of those simple, yet highly effective tools every Director of Photography and cameraman keeps in their kits. This one is well-made and does what it says it will do.
We want you to be completely happy with your purchase, check out our Money Back Guarantee & Return Policy.