Here's what you get:
Book – Scriptwriting for High-Impact Videos
---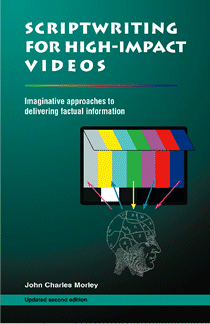 Scriptwriting
for High-Impact Videos
By John Morely
Lessons learned from two decades of writing for a living. All of the concepts presented have stood the test of demanding clients and unforgiving deadlines. All of the ideas are supported by examples taken from the several hundred scripts the author has written and sold.
Whether you're just starting out or firmly entrenched in the field of informational video, you'll find this exciting new edition a scriptwriter's bible filled with stimulating examples and thought-provoking questions to unleash your creativity. You'll learn how to turn ideas into high-impact scripts-for corporate, medical, religious, educational, and government videos.
You'll be given a systematic, step-by-step approach to the creative process that you can adapt to virtually any situation. And you'll be shown proven techniques for communicating visually and writing for the ear, seven essential strategies for improving any video, plus guidelines for involving content experts and decision makers in the process while still maintaining creative control.
Also inside: Numerous examples and ideas to spark your imagination, including project proposals, creative treatments, research and interview questions, techniques for using drama and humor, and a complete list of creative approaches you can adapt to your next script.
It's not the glitz on the screen but the impact on the audience that's the measure of an informational program. This book will help writers strengthen that impact by showing them how to make the best use of their time and creativity. It suggests hundreds of ideas that can be used as starting points and insightful touches. It covers all of the analytical and creative decisions that add up to an effective script for a video. The skills taught in this book are also critical when scripting for film, PowerPoint® presentations, Web sites and other types of interactive media. And specific advice is provided on adapting these skills to those media. The central focus, however, is on video, and readers are assumed to have a basic understanding of video production and writing skills.
Unique Features
Prepares the reader for an area of employment that is widely perceived as offering more job potential for a writer than the entertainment industry and broadcast journalism combined.
Presents a step-by-step creative process within the context of writing for a living, offering many techniques for presenting and discussing ideas, and for building group consensus.
In plain language, lays out the basics of dramatic structure, advertising concepts and instructional design as they can be applied to informational video.
Includes dozens of suggestions that provide a head start on developing a creative approach.

Note From the Author
More than a book on writing, this steps you through an entire process for managing clients, organizing research, developing a creative approach, wordsmithing the finished script and surviving in the food chain.
Two case studies (sales training and orientation) lend continuity throughout and show how each step of the process works within a real-world context. The appendix includes completed scripts for both case studies, a creative treatment for the orientation case study and a list of research questions. The questions alone have generated many enthusiastic comments from writers who modify and use them as an agenda for client input meetings. These writers credit the questions with saving time and enhancing their professionalism.
About the Author
John Morley's been there. From working on staff in university video studios to freelancing for Fortune 500 companies. Along the way, over 300 of his video scripts have been produced. He has taught scriptwriting in corporate seminars and at the university level, and developed scriptwriting software used by thousands of writers.
After earning his BA in Broadcasting from the University of Florida, Morley worked as a writer/producer in school-based production facilities at Santa Fe Community College in Gainesville Florida, University of Florida and University of South Carolina.
A move to Atlanta to work with Jack Morton Productions brought projects from Home Box Office, Milliken Textiles, Georgia Pacific, and a transition into writing full-time. Since moving to Los Angeles in 1984, Morley has been working with clients including CitiBank, Mattel, Pioneer Electronics, and most of the Asian car companies, including Toyota, Lexus and Nissan.
In Los Angeles, Morley studied with the top screenwriting gurus, Robert McKee, Michael Hauge and John Truby. He developed a seminar on informational scriptwriting that was offered through Trudy's Writer's Studio and at numerous industry events, and he taught informational scriptwriting at California State University, Northridge.
His script-formatting software, Script Werx, is used around the world by writers working for corporations, government agencies, non-profits and television shows, including Saturday Night Live.
We want you to be completely happy with your purchase, check out our Money Back Guarantee & Return Policy.