How to Make Money with DVDs and Streaming Video
by Hal Landen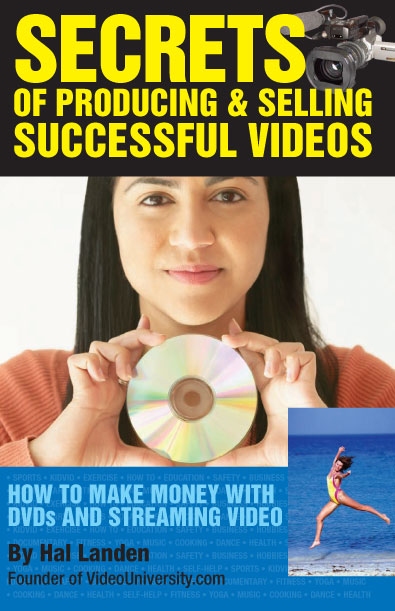 Selling Non-Fiction DVDs and Web Video is a Hot Business for Today. There has never been a better time to produce and sell your own videos. The market for DVDs is expected to reach $49 billion by 2010 and this doesn't even include the explosion of web video. This book will help you bootstrap your own video publishing business without investors or loans.
Discover how others with no equipment or video experience have published successful videos series, not just single videos. But if you are a video producer, you'll discover that special interest videos are a perfect sideline that can overcome the limitations of the video service business. Unlike the production business, the special interest video business lets you multiply your profits and sell products around the world from the comfort of your home. The Internet gives you amazing leverage. For pennies a day you can have your own storefront that sells your line of videos 24/7. Or you can have others do it all for you and send you monthly checks.
Learn how to choose a profitable genre and find a devoted audience for your video — a skill that can make or break your video business before you even start. See how a smart publicity campaign can get your video reviewed in all the right places. Just one good review can bring in $100,000s in sales.
Don't re-invent the wheel. Discover the proven business models for publishing successful videos. Special interest videos are profitable and can be a very big business or a small part time business.
Special Offer
Get this book and the companion DVD "Special Interest Video Magazine" for only $64.00 and we'll give you a free Bonus CD-ROM and free shipping! This combination offer is item #1010
The Bonus CD-ROM includes:
1. "Guide to Making Money With Web Video" 30 page pdf file
No one makes money with YouTube videos, or do they? Learn about his exciting new market and many other sites that pay for your videos.
2. "Home-Based Business Product Pricing" pdf from a major university.
3. "How To Find and Hire Experts"
4. Contracts and Releases you can use.
Order the Combo today! (Item #1010)
What Others Say About the Book:
"A "must-have" primer for anyone contemplating producing and selling their own videos for profit, whether as a primary or side business." — Midwest Book Review
"The best single sourcebook on the topic of making money with special interest videos (SIVs) on the market today. Anybody who's ever thought of making an instructional video, documentary, or kidvid, or self-publishing and selling any kind of information should have a well-thumbed copy of this book on their shelf!" — Doug Graham
I have enjoyed your "Secrets…Videos" book. I am working on several projects at this time using this resource, and I have sent it to others I am working with. — Timothy L
"I found it to be a great resource" Larry Jandro, Video Director, Technical Director and EIC.
"If you want to make money making videos, here are the secrets, all nicely organized, by someone who has clearly walked the talk and taken good notes at every step. Plus, numerous references to other information sources point the way to more detail. It's a amazing amount of information, made remarkably clear, ranging from how to set up lighting to setting up a merchant credit card account for your website. Landen is truly a digital era Renaissance guy, which means that this is practical advice you can follow to real results. But rather than expecting you to also be the jack of all trades, he also includes tips on how to find others to partner with and help you at every step. Whether you're a video expert looking for a subject, a subject expert looking to market your expertise, or you just want to get a direct-response business of any type going, this is the book for you. There's so much breath and depth here that anyone in the video business, or the knowledge business, needs this one on their shelf. You'll be going back to it often for good ideas and essential reference information." – John Morley, author Scriptwriting for High-Impact Videos
"I read it cover-to-cover in one day – it's that good. I learned what I can do myself, and what is best outsourced to experts, and how to access those experts locally. The list of contacts in the Appendix is worth the price of the book alone." – Barbra Sundquist, Mentor Coach
"I couldn't recommend Hal Landen more highly." – Joe Iligashch, Director of Operations CBS 60 Minutes
"Hal gives you an abundant supply of secrets of successful videos while exploding many myths." – Jay Conrad Levinson
I must say I would never have expected to find Veggie Tales, Jane Fonda, Michael Moore and sex mentioned in the same book. However, in his newest release, VideoUniversity founder Hal Landen has done the unimaginable "¦ and succeeded. Weighing in at over 300 pages and chock full of information, Secrets of Producing and Selling Successful Videos: How to Make Money with DVDs and Streaming Video, truly has something for anyone interested in producing and marketing videos—especially special interest videos (SIVs). – Steve Yankee, EventDV Magazine
Read the Full Review from Event DV
I received and read Secrets of Producing and Selling Successful Videos…wow, I loved it! It is almost as if you were reading my mind and answered almost every question that I had. Thanks for your huge effort in putting this together. I know this is your business, but I also appreciate your generous heart in sharing so much practical information about producing and selling successful videos. I will pay you to take this book out of distribution…competition will be fierce! Just kidding, of course. Thanks a million, — Adriana Petersen, Executive Producer, EyesOnYou Films
"We were able to sign with a large distributor because of your information. Thanks." – David M
"21st Century information that even 20th Century old guys, like me can understand. Well done. THANK YOU." – Bill Farnsworth
Thanks for the bonus chapter. It goes perfect with the rest of the book. The book has truly been great and given me the confidence to start my first SIV. – M. Sullivan
This book is covered by our 90-Day Money Back Guarantee.
There's no risk to you.
We want you to be completely happy with your purchase, check out our Money Back Guarantee & Return Policy.