Sorry, this products is no longer available.
The Perfect Off-Season Addition to Your Wedding Video Business.
By Bonnie Durkin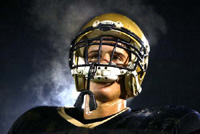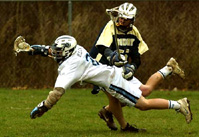 Conquer this Lucrative Market!
If you love sports and shooting video, this is a business for you! High School Varsity Sports are a growth area that is taken very seriously by parents, coaches and kids. Bonnie Durkin, President of D-Vision Video has had great success videotaping and editing high school varsity sports videos. Her DVD and CD ROM package entitled Shoot and Score with Sports Videos show how you can follow her lead in this lucrative and fun business. Bonnie is a very popular and frequent WEVA seminar speaker.
The Seasons and the Sports
In high schools there are three sports seasons and lots of sports such as the sports listed below. You don't need to be an expert in the sports you film, but you will want to develop a basic understanding of that sport. This will be fun and very helpful to your business. You can learn a lot about any sport on the internet.
Sports videos are very popular and a great way to get your name out there as a producer of fun entertaining videos. As Bonnie says, "Do one sports video and it will lead to another, and another, and another. For me, sports-related production has proved the most cost- effective means of marketing and advertising all of my services."
One school, one sport can be worth $7000 to you just as it has been to Bonnie. That's why you should sell video coverage of an entire season in each sport. Some sports video projects will bring in much less, but Bonnie will show you how to insure that they are all profitable.
Fall Sports
Football
Boys and Girls Soccer
Boys and Girls Cross Country
Field Hockey
Tennis
Girls Volleyball
Cheerleading
Fencing
Winter Sports
Boys and Girls Basketball
Wrestling
Swimming
Winter track
Ice Hockey
Gymnastics
Cheerleading
Spring Sports
Boys Baseball
Girls Softball
Boys and Girls Lacrosse
Boys and Girls Track
Golf
Tennis
Here's What You'll Learn
Equipment needed for sports coverage
Shooting and editing sports videos
How to market sports videos
Discover the vast array of sports video projects you can offer your clients. For example, game coverage, season highlight tapes, college recruiting tapes, End of the Season Banquet. The Big Game and more!
Personal attributes needed to create sports videos
Determine who your customers are
How to choose the right music kids will love
Choose the right schools
How to price it right so you are covered and even make good money duplicating videos that the school shoots.
Successful strategy for producing the most popular tapes – The Highlight Tape
Senior Memory Tapes have become a hot item for Bonnie. See how this emotional presentation can catch on like wildfire
Shooting and Editing Sports Videos can be a wonderful break from wedding videos.
Helpful Hints in Producing Sports Videos. Why re-invent the wheel when others have already learned what works and what doesn't.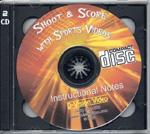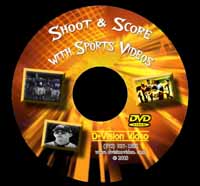 We want you to be completely happy with your purchase, check out our Money Back Guarantee & Return Policy.