Here's What You Get:
The Book They Shoot Funerals, Don't They
145 pages
DVD How I Videotape A Funeral
DVD Demo Clips
CD Resource Files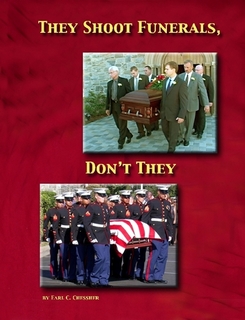 The complete guide to marketing, shooting, editing and producing funeral and memorial video productions. If you can shoot and edit an average video or better, you can make good money in this business. This package gives you everything you need to know to enter this under-served video market.
"Will help anyone interested in breaking into the funeral video business." – Artis White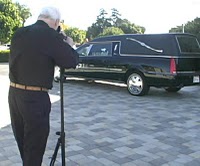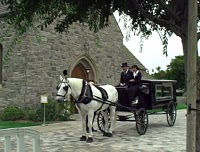 Look at it this way. It's a lot easier to document a funeral when it is not someone you know. In this book, DVDs, and CD you learn what to film and what not to film, how to price and promote your services, what different packages to offer, what kind of demo reel to show, how to handle every aspect of this business. The author even grants you permission to use clips from his DVD in your demo reel.
"Definitive resource for learning how to videotape and produce funerals, memorials and memorial montages. – Dr. David Curtis
Learn how to approach funeral directors. Discover what to offer them. There are a number of different services and products you can offer this market. Video coverage of the funeral services, coverage of the memorial services and memorial videos. This latter is a photo montage created from photos the family supplies. It can be edited to a favorite song of the deceased or to the list of songs the author uses. These are fast turn around jobs so you will need to become efficient with your edit system to streamline this work. But once you get the hang of it photo montages are easy.
Funeral and memorial videos generally require much less editing than wedding videos and often yield a higher paying rate per hour. These services can lead to other services and jobs.
"From marketing, pricing, shooting and editing, you'll find all your questions answered with this powerful kit." – J. Michale Long
Videographers who offer these services often find that the funeral and memorial video services eventually account for 50 – 75% of their income.
Product consists of the Book, the CD, and Two DVDs.
You get all the marketing documents and files, brochure samples, worksheets and order forms, price lists, sample newsletter, post cards and much more.
We want you to be completely happy with your purchase, check out our Money Back Guarantee & Return Policy.