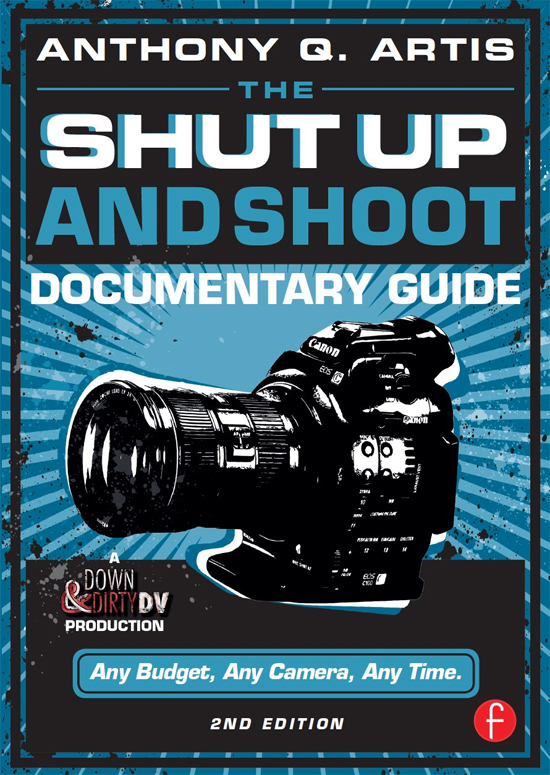 Here's What You Get:
printed book The Shut Up and Shoot Documentary Guide 400 pages
Don't just talk about making movies, start shooting. This book will get you going. It's the leading film book for amateur filmmakers. The Shut Up and Shoot Documentary Guide shows you how to do more with less.
Discover How to:
Avoid common filmmaker mistakes.
Give your videos that professional look and sound.
Jump way ahead of your competition.
In a few hours, you will learn more than film school courses teach in a whole semester. In fact many film schools use this book as an assigned textbook. The proven strategies will stretch your budget and better control your production.
A few of the things you'll learn:
What film gear you need to get started
What to look for when hiring crew
How to work remotely w/ an editor
When and how to use lighting accessories like colored gels
Which microphone to use and How to hook up a mixer
Which boom position to use and when
How to mount a lav mic
Interview preparation and warm-up
Interviewing celebrities
How to shoot a live event
How to shoot in rough neighborhoods
How to get the most out of shooting with a cellphone
How to shoot a remote video interview
How to shoot handheld
How to avoid getting your equipment ripped off
How to hustle money back into your budget
The most common budgeting mistakes to avoid
When to use camera auto-functions
How to successfully start a Kickstarter Campaign
How and why to adjust video color bars
Who does what on the crew
Popular camera specs and prices
How and when to manipulate your shutter speed
How to feed your crew well on a budget
How to get shallow depth of field in 5 different ways
How to work a film festival
How to steal locations and not get busted
Five different ways to get a film look from video
How to raise the money and approach investors
8 Lighting set-ups including diagrams and photos
"As my teacher, Anthony Artis taught me how to cut production down to the bare essentials to get it done… Without this foundation I would never have been able to keep up at the White House."
– Arun Chaudhary, First Official White House Videographer and author of First Cameraman.
"Extremely helpful for the newborn documentary filmmaker."
– Albert Maysles, Grey Gardens, Salesman, Gimme Shelter
"The Shut Up and Shoot Documentary Guide is a good primer for the entry-level documentary filmmaker, present