Companion DVD to the book Secrets of Producing and Selling Successful Videos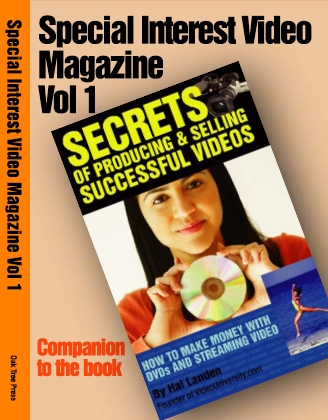 "Your new video was very helpful and interesting. I'm glad I learned some of these lessons before I proceeded with my video business." – Clay M.
This magazine-style DVD offers three distinct segments all designed to help you learn and emulate what the most successful producers have in common. There's no reason you can't produce a non-fiction or special interest video that makes a good profit. And have a lot of fun doing it! Here are some of the things you will learn:
What Do Distributors Want?
Leslie Kussman, producer-distributor, shares her expertise on how to produce and market a successful video. When you see what she has overcome to build her successful business, you'll be inspired. Her distribution company is always looking for videos that serve her market of hospitals, libraries, and health care providers. Leslie guides you to produce a video that people want to see. Health care is the largest industy in America.
How To Get a Good Review For Your Video
Next we go to the West Coast and visit Randy Pittman the editor-publisher of Video Librarian Magazine. This publication reviews over 200 videos every issue. You may think libraries are just for books, but they've changed. Some libraries today spend $1 million a year buying DVDs. Shouldn't you get your share? Randy explains the review process with lots of helpful examples.
Pricing Pitfalls and Opportunities
Our third segment is about pricing your DVD. Lots of producers leave money on the table when they put a price on their DVDs. Why price your video at $19.95 when you can make a lot more money at other price points. We'll show you. You'll learn about the psychology of prices, niche vs. mass marketing, value pricing, and lots more. You'll even learn about a video set that sells for $1795! Watch this segment before you produce your next video. It will put money in your pocket!
Special Offer
Get the DVD and the book "Secrets of Producing and Selling Successful Videos" for only $64.00 and we'll give you a free Bonus CD-ROM and free shipping! This combination offer is item #1010
The Bonus CD-ROM includes:
1. "Guide to Making Money With Web Video" 30 page pdf file
No one makes money with YouTube videos, or do they? Learn about his exciting new market and many other sites that pay for your videos.
2. "Home-Based Business Product Pricing" pdf from a major university.
3. "How To Find and Hire Experts"
4. Contracts and Releases you can use.
Order the Combo today! (Item #1010)
We want you to be completely happy with your purchase, check out our Money Back Guarantee & Return Policy.