Here's What You Get:
ebook Web Design Business Kit For Video Producers 73 pages
18 pages of extras to help your web design business including:
6 Contracts You Can Use (with Instructions)
Have you ever wondered what you'd do if your video business hit a dry spell and the income just stopped? We've all been through that and know it's not fun. Wouldn't it be great to find another significant income stream that is unrelated to video production (and maybe even one they need more than they need videos!)
Your own web design business could be the perfect compliment to your video production business. You can't get any better cross-marketing. Those who buy video services also buy web services and vice versa. Without doubling your marketing efforts, you could double your sales.
Just like video production, web design is a nice mix of the creative and technical. But unlike video, it requires no equipment investment beyond the computer you already own.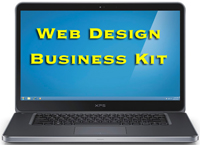 Consider these advantages of the web design business:

After creating a great website for your client, they are more likely to hire you to produce videos and photos for their new website.
The same people who need video production also need web design services. So you cut your marketing expenses in half! And they probably buy web design BEFORE they buy video production. Imagine talking to a potential video client and being able to offer him or her web design services in addition to video and photography.
No equipment to buy, insure or master. You probably already own Photoshop and if you don't, you can get by with a free alternative.
You don't have be a designer. There are thousands of professional business web designs you can provide and tweak for your client.
You don't have to be a programmer. Free plugins can make a website do anything you can think of. They are easy to install and require no programming skills.
Recurring Incomes. It's about time you had several recurring incomes. They're all part of the web design business.
You could make your first sale three days from today.
How would you like to call every one of your former and current video clients and tell them you can improve their web site or create a brand new one from scratch. This is an easy phone call to make because:
1. Every website needs some improvements;
2. They already know and trust you;
3. You can offer them a free and simple service which will improve their web traffic and practically guarantee you make the sale.
Doesn't get much easier than that.
If you commit to doing this, you could be in business in less than one week. You'll get step-by-step instructions for getting up to speed on web design and WordPress. Then you'll design an actual site and see how easy it to change that entire design using excellent off-the-shelf templates that require no programming. Then tweak or change it again. You're on your way!
Learn at your own pace the business of web design and development. It's easy when you see how this one powerful, non-technical application can do it all for you.
This book assumes you know nothing about web design and development. We take you step-by-step through the process so you can do it in your sleep. And you'll see how easy it is to change the overall design of a website you've created. It takes just a few minutes.
Learn how to start a web design business that compliments your video production business. What company or non-profit that needs a video, doesn't need to improve their website?
You'll also learn:

Seven ways to market these services right away for no money.
Exactly where to start and what to do to get the ball rolling.
How to charge and how to use the included sample contracts you can modify.
How to write a winning proposal. What every proposal must include.
How to develop your "Golden Rolodex" of skilled designers, developers, programmers and others who can make you look like a hero and help you charge more.
How to become an expert in email marketing, Search Engine Optimization , Social Media promotion and other additional services you can offer.
How mobile websites are a new profit center for you.
How to get a link to your site on every site you build.
The right way to hand the website over to your client.
Four things every website must do to insure maximum traffic.
Nine free business directory sites where you must register your own site and your client's sites. Then watch the traffic climb.
To Sell Maintenance Contracts for even more recurring income.
And lots more!
Web Design and Video Production are a perfect marriage. This will compliment your video production business. Smart marketers are already offering both as well as other marketing services. When you see web designers offering video production, you know they are subcontracting it as well as photography and other marketing services. Isn't it time you offered more of the services that are in such demand by businesses and non-profits? The web design business for video producers can be an ideal way to expand your business.
Even if you decide you don't want to start the web design business, the tips in this book will help you make your own website 200% more effective in selling your services. I guarantee it. If you don't agree this book will do wonders for your business, send it back within 90 days and I'll give your money back without any hassles.
We want you to be completely happy with your purchase, check out our Money Back Guarantee & Return Policy.