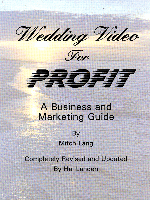 Here's what you get:
Study Guide
Over 140 pages of proven strategies and techniques for making serious money in the wedding video business
CD-ROM with TEN of the all-time best Wedding Video Contracts (the contracts alone are worth the cost of the book) and All the Best Marketing Documents and Resources
Proven sales materials let you start selling higher priced bookings today! Why wait?
Now with CD ROM including TEN wedding video contracts you can modify and use
Would You Sacrifice Part of a Weekend to Make $1000?
Discover how you can make a great income every weekend. You'll learn about one wedding video business that became so successful the owner had to hire extra crews to shoot 5-6 weddings every weekend. And then you'll see how he started turning down the high-volume wedding business he had created. When he transformed his business by raising his prices and accepting fewer bookings, he actually made more money and had a better lifestyle.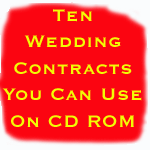 The Free CD ROM that accompanies this book has all the wedding contracts you would ever need. They are doc files so you can easily change any part, add your company info, save and print them.
There aren't many part-time businesses with the large demand and cash flow of the Wedding Video Business. Just look at the numbers: There are over 5 Million Weddings every year in America. And more than half of them hire wedding videographers. That's over 2 and a half million wedding videos a year. While there are no figures on the average cost of a wedding video, I'd be willing to guess that it's close to $1000. In fact some wedding videos go for $10,000 or more. With number like these, this is clearly a business videographers can't ignore.
There's also a lot of competition. What this book Wedding Video For Profit does is give you a complete blueprint for leapfrogging right over that competition. Rather than compete for the $400 – $500 wedding videos, you can avoid this self-defeating battle of the low budget market. (If you're just starting out, you'll see how to do a couple low budget or even free wedding videos just for the experience and to build your demo reel.)
Start Part-Time Without Leaving Your Day Job
One of the best things about this business is that you can start it gradually and let it build so you have the option of making it full-time if and when that's right for you. That's what one man did. When he began shooting weddings he had a full-time job as a social worker. But when the wedding money started rolling in, he realized he could leave his job and devote full time to what he really wanted to do – Video.
You may want to go full-time right away. Or perhaps you just want to make your expensive video hobby pay for itself so you can buy that video gear you've been craving. Wedding Video For Profit shows you all the tricks-of-the-trade you can use right away to make your video business profitable from the start. You'll learn the best trade secrets that make a wedding video business successful. Not only do you learn the most profitable strategies and techniques, but you also get the proven marketing materials and documents including:
Contracts with the All-Important Terms and Conditions
Actual Winning Sales Letters
Price Lists
Letters to Other Wedding Pros Which Bring In Referrals
Brochures
Client Feedback Forms
Direct Mail Letter
Phone Script You Can Use for all Incoming Calls
Response Letter to Phone Inquiries
Followup Letter To Bridal Show Prospects
AND LOTS MORE!
"Using Hal's Wedding Video for Profit course has kick-started me in making a living shooting wedding videos. Right off the bat, with NO DEMO REEL, I was able to get 12 well paid contracts at a wedding trade show. This is a MUST for anyone serious about making money shooting weddings."
– Paul B.
These are not just some boilerplate letters knocked off by a marketing guy who's never been in the wedding business. These are the exact documents that have proven to bring in the bookings. They've been thoroughly tested and refined in the real world of selling wedding contracts. Most of these documents are on the companion CD ROM and easily loaded into either a PC or a Mac. Wedding Video For Profit guides you in exactly how to use the documents and apply the powerful techniques to start or expand your own business.
Wedding Video For Profit is a MUST READ no matter what level of this business you'd like to pursue. You'll see exactly how others are grossing $100,000 a year and more in this lucrative business. You'll even read about one guy who grosses over $1 million a year doing wedding videos according to the Wall Street Journal. We're not saying you're going to make that kind of money.
But just realizing that this can be a big business will inspire you. And you'll see that you can take this business as far as you want.
"Even though I'm in Australia, there's really not much in this book that doesn't assist me. It's incredibly helpful and has already saved me hours of work creating forms etc. With this new knowledge my business will no doubt, grow much quicker. Excellent book Hal, thanks."
– Dazz
You'll discover how to increase your average sale by offering clever add-ons such as CD-ROMs and where to get them produced inexpensively.
See how some wedding videographers also offer wedding webpages from the video and make these webpages available to distant family and friends within 48 hours of the wedding. You'll discover how to use the Internet as a goldmine of valuable marketing research information for the ambitious wedding videographer. The book reveals lots of websites you can visit to quickly build your wedding business. You'll get a crash course in understanding your clients – the brides and an exclusive WEVA interview where eight brides reveal how they chose their videographer.
This book includes everything you need to know to profit in the wedding video business. You can read the book's complete table of contents here.
The Smart Way To Run A Wedding Video Business
Learn how to position your business so you are selling to the more affluent clients. (Why shoot three $500 weddings when you can shoot one $1500 wedding?) You'll see why most smart wedding videographers don't rely on Yellow Pages ads. They've learned the expensive lesson that Yellow Pages ads attract the wrong kind of clients – those who are price shopping for the cheapest rates. That's why the Internet has become so important to building a referral-based business.
"Have to tell you, this book, Wedding Videos For Profit is fabulous! Easy to read, a real asset to have for my business! Worth every penny. As a graduate student, I have text books that cost more and inform less than your book. …thanks!"
– Tammy
Referrals are the key to a profitable wedding video business. Unlike clients who call you from an advertisement, a referred client costs nothing to book and most of the actual selling has already been done for you. Another big advantage to a referred client, is that price is often a minor issue.
You'll learn about the surprising area of subcontracting and see how some people focus on either shooting or editing, but not both. Learn the five questions to ask before buying equipment and some very clever equipment strategies that will put you in business no matter what your budget.
In Wedding Video For Profit we show you how to regularly test higher rates and packages prices. This is a surprisingly easy way to boast your profits even if you think you could never sell a package that costs a thousand dollars more than the average price. Just as an experiment you add a Supreme Package with all the bells and whistles to your rate sheet. With three different package prices, most people will choose your middle package, but there are always a few who will go for your higher-priced Supreme Package that includes everything.
You'll learn how to set your business up properly with a good accountant so you'll be entitled to thousands of dollars of legal tax deductions. A home office alone, if it meets certain requirements, entitles you to deduct a percentage of your home expenses including: mortgage interest or rent, electricity, telephone, garbage pickup, and many others. See how to structure even a small part-time video business so it's an income tax bonanza. Then everything you spend on equipment and anything else needed to run your business (like this book) becomes tax-deductible.
The Wedding Video Contract
A lot of wedding videographers get into trouble by using the standard boilerplate wedding video contract you can buy from stationery suppliers. Using these boilterplate contracts can be a BIG mistake. The terms and conditions printed on these contracts just don't reflect the real world of videography and they're not smart contracts designed to put YOU in the drivers seat. The contracts in Wedding Video For Profit are guaranteed to make you a LOT more money and prevent client problems. We've included 10 of the best wedding video contracts as doc files on the CD ROM so you can easily modify them with your company info, prices etc. A good contract will be worth thousands of dollars to your business not to mention the peace of mind it brings to each job.
"Thanks to your book I've done two weddings so far and now have a slew of them booked in advance without even advertising! It's all been referrals."
– Nancy H.
This Complete Home Study Course Includes:
1. Study Guide
Over 140 pages of proven strategies and techniques for making serious money in the wedding video business.
2. CD ROM with TEN of the all-time best Wedding Video Contracts
(the contracts alone are worth the cost of the book) and All the Best Marketing Documents and Resources, proven sales materials let you start selling higher priced bookings today!
Whether you're just starting out or have been doing wedding videos for years, you have nothing to lose by trying this book. We guarantee this information will significantly boost your profits or simply return it for a full refund. It's that simple.
To order the book now just call (401) 253-2800 and ask for Wedding Video For Profit. It's normally $79.77 but if you order now, you can take advantage of our
SPECIAL INTRODUCTORY PRICE of only $64.00 postpaid
We want you to be completely happy with your purchase, check out our Money Back Guarantee & Return Policy.