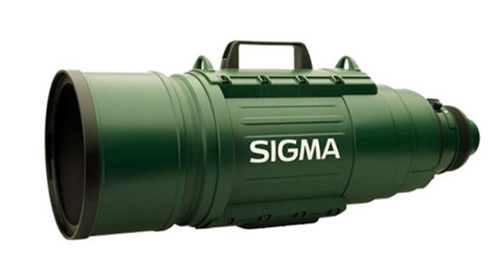 The Sigma 200 – 500mm with a Nikon F mount is an amazing lens (currently unavailable). It has an aperture of F2.8 at the 500mm end and F5.6 at the 1000mm focal length. It's a heavy one at 35 pounds. It's pretty amazing. The only real catch I see is its price : $25,999.00.
The customer reviewers on Amazon include some hilarious reviews. Here are a few of them:
It's a bargain, at only $743 per pound. AND, it has a nice top-mounted carry handle, which also serves well for tying on a rope to anchor your boat. My Nikon D800 cost $1,364 per pound and does NOT have the anchor rope handle.
I purchased this lens with some Christmas money I got this year. My wife got me the same Lexus-with-a-giant-bow she gets me every year. Since I ran out of garage spaces anyway I just decided to return the car and pick up two of these. I figured it would feel more balanced and less awkward to carry one in each hand rather than just holding one. Boy was I right!
I must admit I did not buy this monster of a lens – it came to me the old fashion way (no it wasn't stolen) my parents purchased it for me – they have more disposable income than I. Well after having had it for a little while, there are a few things I have learned: 1. Don't unleash this beast around other photographers or anyone else for that matter unless you are a total camera snob and are trying to compensate for certain inadequacies. 2. Use a monster tripod – this beast weighs over 100 lbs.. 3. Let the lens come to ambient temperature before using. 4. Do not use it for photographing ANYTHING from the deck of your home in San Francisco – unless you want your neighbors phoning SFPD complaining that you are a voyeur – SFPD was impressed with my photos of the Palace of Fine Arts and Alcatraz. Now I wanted this lens for nature photography – this is what I do for fun. Unfortunately, I think the lens is much too large and heavy to be transported with any ease other than hiring a Sherpa.
Cons :
-It doesn't seem to work with my electronic gimbal. when I attach the lens to my gimbal, and move the gimbal, the whole solar system revolved around the lens. that gave me a headache.
-there's no compatible mount for DJI Phantom yet
-the reversal ring for macro photography is very sharp, meaning it could cut off your hands. use with caution
Pros :
-when I use it together with Canon 1.4x extender, I was able to capture photo of my back. How wonderful !
I accidentally pointed this into the sun while trying to wrestle it onto a tripod, and my 5d Mk III instantly turned to a cloud of hot vapor. Also possibly my brother Bartholomew, whom I have not seen since the incident. He was standing behind me.
People, please be advised that with the Amazon rewards credit card you can get $30 off the price!
A co-worker has one of those camera lens coffee mugs and is always yammering on about how it shows how much he's into photography. So I got this, removed the optics, and turned it into a significantly bigger mug and shut my co-worker up.

$25,000 well spent.