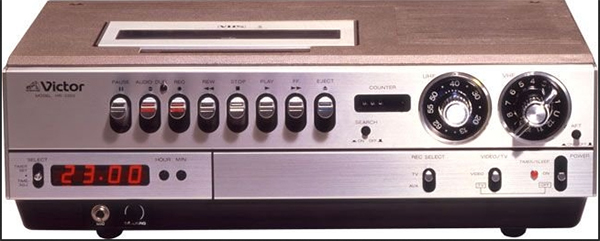 The last VCR will be built this month by the Funai company of Japan. They recently announced they are stopping the manufacture of VCRs as of July 2016. Funai once sold 15 million VCRs annually. Last year their sales had dropped to 750,000.
The VCR has had a major impact on how people watched movies and videos. First introduced in the 1950's, it would be decades before the VCR became affordable and commonplace. The first practical VCR was introduced in 1956 by the Ampex Electric and Manufacturing Company. It was first shown to a group of CBS executives. After the tape was rewound, there was total silence and then wild cheering. The machines that Ampex showed were priced at $50,000 each. They sold 100 in the first week.
The first VCRs for home use were available in the 1960s, but they took off in the 1970s when the competition between Sony's Betamax and JVC's VHS formats began. VHS was the victor in large part because it encouraged the X-rated market. Sony had banned adult films from using Betamax. By 1987 VHS had won 90% of the market. The total market size was $5 Billion.
The VCR gave the power to the viewer to record and watch TV shows whenever they wanted. We were no longer tied to the dictates of the TV schedule. While VHS tapes will probably never reach the collectability of vinyl, a few retro VHS titles still attract big money on the used market. Some tapes today command up to $10,000. Check your collection and eBay. A number of Disney and other films sell for over $100. But there is a lot of hype about this. So don't believe everything you hear. There are numerous VHS copies tapes of Disney's Beauty and the Beast on eBay listing for many thousands. I just bought a VHS Beauty and the Beast for $.49. Somehow I don't believe it will bring in thousands. I'd let it go for $5000. It's a steal! 😉
It's been reported in an aol article that some VHS tapes have sold for amazing prices on eBay:
RARE Beauty and the Beast BLACK DIAMOND, $9,998.88
Berlin Express, $5,214.99
Pterodactyl Woman from Beverly Hills, $2,799
Dr. Frankenstein's Castle of Freaks, $1,800
Back for Revenge aka KID 1990, $1,142.03
But if you check out eBay "completed sales" I don't think you will find anything like that. VHS tapes sell for a few dollars. (Ed. Note: Sorry if the first version of this article was misleading.)
These two formats, VHS and Betamax, later spawned additional formats such as Super VHS and Hi-8. These were called "prosumer" and ushered in an era of low cost, professional video production. So as the last VCR rolls off the assembly line, we say Thank you VHS!
Keep Reading...