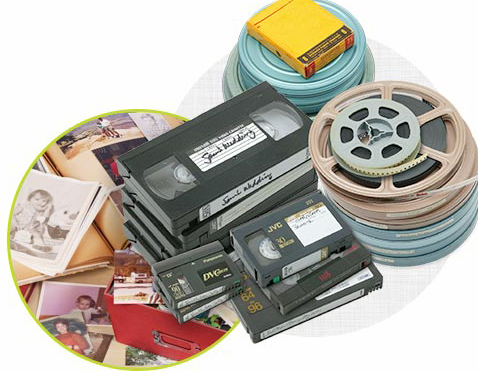 When I started my video transfer business, I had intended it to be a small part-time business that would be a nice way to meet neighbors. I made all kinds of videos into DVDs and digital, but subcontracted the film transfers to a guy who does transfers full-time. I recently decided to expand the business to include film transfers as well as photo scans.
Why Did I Change?
I realized there are some good-sized companies offering all three – video, film and photo transfers. I also discovered that some of these companies had started from small one-man bands. There's a company in Massachusetts that has now satellite stores in five surrounding states. I imagine these are franchised operations as they are within other businesses. In addition to photo, video and film they also provide professional photo organizers. This is a bigger thing than you may imagine. Check out the Association of Personal Photo Organizers. http://www.appo.org/
Lots of companies are offering transfers by mail order. But the gorilla in the room is the YesVideo class of transfer business. YesVideo does the transfers for Costco, Walmart and most of the drug stores in the country.
One big advantage a small company like mine has over the larger competitors is that my customers don't have to trust Fed Ex or nameless employees at a giant company with their precious family memories. And this is a significant advantage. I live in the same town as many of my customers. This is a personal business. Customers come to my home to pick up or drop off their media by appointment. They know I understand how important these videos are to them.
I finally bought a 8mm/Super8 film projector on eBay. I lucked out. It worked perfectly right out of the box. Not bad, considering that it is probably about 40 years old. It has a variable speed rheostat which removes the flicker you see in many transfers. It accepts both 8mm and Super8 films. The next step up the quality ladder used to be the telecine, but the telecine has now been surpassed by the film scanner where each frame is scanned into a digital still and then recombined into a motion picture.
It is not a trivial process. The Reflecta Super 8 Scanner scans a 15 minute film reel in 2 hours 46 mins. It only works on Super 8 films and it takes some work to manage the software. Film scanning can become quite involved. To see how to make the absolute best film transfer, watch the video on the Digital Restoration of the Zapruder Film. Chances are your customers will not want to invest in that kind of transfer.
Transfers And The Cloud
YesVideo uses custom software to host their videos on Amazon Web Services. Smaller operations may offer to set up Dropbox accounts for their customers. Some photo organizers are using the new Google Photos for their customers. Google Photos allows you to store unlimited photos and videos for free. But it limits the resolution – photos are capped at 15 megapixels, and video is capped at 1080p.
Storage on the cloud is a fast changing area. Some transfer companies offer to upload customers photos and videos to a private, password protected website. They may offer it for free for 90 days. And then offer a monthly subscription. Reselling cloud storage is a viable option if you want to offer cloud storage to your customers. This is available from companies like BackBlaze, Amazon S3, LiveDrive and others.
The photo scan business is for some a specialty along with photo organizing with film and video being secondary. A flatbed scanner will do the job if you use software which allows you to fill up the scanner with photographs. The software will automatically separate the photos which makes it more efficient. The typical customer will bring 2000 – 3000 photos so the flatbed is soon overrun. the next step is a Kodak PS50 Sheetfed Scanner which scans 50 print photos a minute.
Additional Services
The video transfer business is just the beginning. Slides are an obvious next service to offer. To convert slides, YesVideo engineers cut holes in the sides of vintage Kodak Carousel projectors. They insert a Nikon D10 digital camera into the hole to capture each slide. You can buy specialized machines that transfers slides to digital.
And if you want to offer slide shows, you can work from 50 or so scanned photos and add any music your customer wants. You easily could jazz it up with lots of fancy transitions by using Animoto (http://animoto.com.) Another service that meshes very well with the transfer business is the Video Biography and Video History Business. This may naturally occur to your customer if you also offer to edit their video or create photo montages.
Next Steps in My Video transfer Business
The video transfer business has many related services that are in demand. After I get the film transfer service going, my next move is to offer photo scanning with a Kodak scanner. I'll keep you posted.
For more information on the Film and Video Transfer Business see Start Your Own Video Duplication and Transfer Business