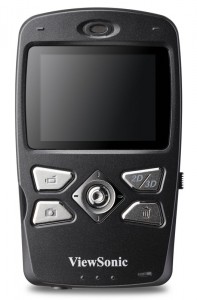 The
ViewSonic 3DV5
features two fixed-focus 5 megapixel fixed focus cameras that can capture 3D content at 720p resolution, as well as standard 2D video. The video camera has 10 MB of integrated memory as well as an SD/SDHC card slot that can support up to 32 GB of removable content. The camera saves images in MP4 format (JPG for still images), has a 4× digital zoom and a built-in stereo microphone. Users can hook the camera up to an HDTV using a mini HDMI output; the 3DV5 also has USB 2.0 connectivity.
You don't need special glasses to playback your footage in 3D instantly on the 2.4″ LCD screen. The 3DV5 is compatible with most new 3D HDTV's. With intuitive ArcSoft® software Wizard onboard the 3DV5, you can also easily enjoy 3D playback on your regular 2D PC or TV with the included red/cyan glasses. Even upload and share your videos on YouTube 3D using one simple click with intuitive and intelligent software built-in. This palm-sized 3DV5 HD camcorder will make entertaining and sharing fun in full 3D, a snap!
The price is $179.98
Keep Reading...