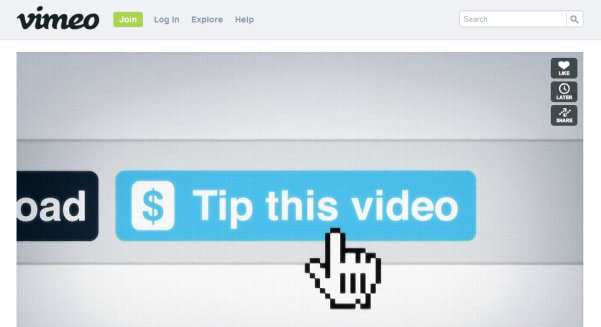 Vimeo has just added a Tip Jar which enables viewers to "like" a film with money. To enable the Tip Jar on your video, you must have a Vimeo Plus or Pro account. This is good news for filmmakers. Vimeo apps are available for iPad, iPhone, and Android. Vimeo can also be seen on Roku, Boxee, Google TV, and Apple TV.
The independent filmmaking community has long been partial to Vimeo as a video hosting site. Out of the 65 million unique visitors per month, a great many are film lovers. This tip function puts Vimeo in the realm of crowdfunding sites. Like the others, Vimeo takes a cut – 15%, which is more than most, but at least they don't make you wait long for it.
So now when a viewer discovers a video she likes, perhaps a tutorial, and wants to thank the filmmaker for it, the new Tip Jar is an easy way to reward helpful or entertaining films. But even better is that early next year Vimeo's pay-to-view will debut. Filmmakers and producers will be able to charge for viewing their videos. One thing that is different with Vimeo's Video-On-Demand (VOD) is that anyone with a Vimeo Pro account can use it. Amazon and ITunes, on the other hand, make filmmakers go through an intermediary like Distribber.
Vimeo also has a new music store where filmmakers can find and license music to legally use in their films.
If you're looking for exposure, YouTube has tons more traffic and it is the second most popular search engine in the world, but if you're looking for an artistic community, Vimeo wins hands down. Vimeo does not run ads before or on top of videos like YouTube does. What to do? Use BOTH of them and get even more exposure.