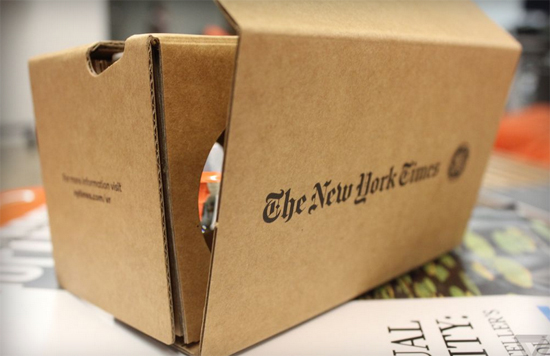 Google Cardboard announced a partnership with The New York Times to present a new virtual reality documentary film. On Nov 7th, 1.3 million Sunday New York Times papers included the Google Cardboard Virtual Reality headsets at no extra cost.
The VR headset requires that you slide your smart phone into the VR viewer and download the free NY Times VR app from Android or iOS.
This app includes the VR documentary, "The Displaced." The 12-minute film is a poignant story about three children caught in a refugee crisis. The story should make you feel grateful for having been born and raised in much better circumstances. No kids should have to endure this. It is an interesting topic for a virtual reality doc. It will probably be viewed more than a conventional HD doc might and perhaps that is why they choose the topic.
It's pretty remarkable that the NY Times and Google gave away more than a million of these headsets. You you can buy the cardboard headset for just a few dollars or even make it yourself . Then simply add your phone and the free VR app.
The technical aspects of the documentary are pretty remarkable as well. The camera rig captured a full 360 degrees so there was no place for the camera crew to hide. For many of the shots, the camera is being held by one of the subjects. For instance a shot of a kid running looks normal from the front – you see the POV of the kid running, but when you turn around, as you can do with Virtual Reality, you see the kid holding the camera boom. It may have been filmed with a rig like this one which used 16 GoPro HERO4 cameras.
When the NY Times and Google do something this big, it's a milestone in the virtual reality landscape. It seems a pretty safe bet that VR will become a very significant aspect of society in the near future.