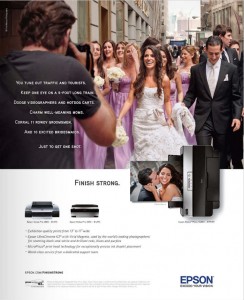 In a new print and online ad from Epson, the printer company is aiming at wedding photographers. Quoted from the ad:
"You tune out traffic and tourists.
Keep one eye on a five-foot long train.
Dodge videographers and hot dog carts.
Charm well-meaning Moms.
Corral 11 rowdy groomsmen.
And 10 excited bridesmaids.
Just to get one shot."
————————
I'm sure Epson did not mean to insult any of their customers, but videographers are dissed in the ad. A lot of videographers use the Epson printers to print DVDs. Wedding videographers have long fought to win the same respect enjoyed by wedding photographers.