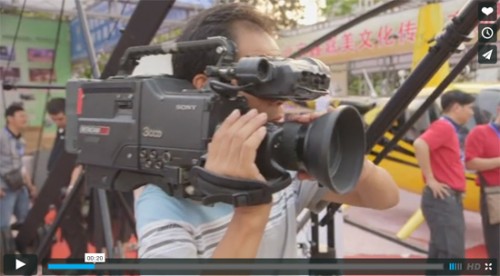 see video below
Back in the old days this was the kind of thing we'd joke about. Would everyone be fooled? Civilians probably would be, but anyone in the business would not. It's no joke now as a very clever guy in China named Mr Buyh has done it! He's taken a broken Sony BetacamSP and given it new life as an HD camera. Here's the video:
Make a GoPro Look Professional
The GoPro HERO3 camera inside is using the big ENG zoom lens rather than its own so the quality should be better than a GoPro. TV stations are lining up to order this camera which costs him about $300 to make. When their old cameras break, the case is still quite usable. Not only does this new version use the broadcast camera's zoom lens, but also it's viewfinder, audio inputs and buttons.
The quality we saw was not as good as expected, but I believe his later versions will improve as he finds better ways to marry the optics and electronics of the two cameras. What does it take to make GoPro look professional? For that matter will a less professional-looking camera hurt your chances for winning a production contract?
This is a question I am often asked when it comes to producing business videos. The answer is that since the client won't see your camera until after you have a contract and have written the script, it doesn't affect your chances of winning a production contract. You should have been paid about a third of the budget before the client ever sees your camera. The client should have already seen some of your best looking videos or clips. That helps a lot when you show up with an inexpensive camera. You shot all of that with this camera your client might ask.
You can modestly say, it's not the camera, but the person behind it that makes great looking videos.
You'll want to match the equipment and personnel to the job and budget. That's really what a producer does. If you're producing low budget marketing videos, you must use the client's money wisely and using a less expensive camera while making great shots is one smart way to succeed.