Contracts for Business Videos
These contracts are intended for producers of business videos. Also called Letters of Agreement, they enable you to customize the agreement with your client and protect both parties from misunderstandings. Sent via email.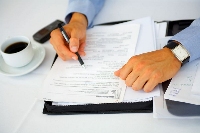 Letters of Agreement
Price: $39.97
(postpaid in the U.S.)
90 Day Money Back Guarantee
Here's what you get: 24-page SPECIAL REPORT with two free gifts
Can be sent by email. Just note that in the Comment Field of the Shopping Cart.
by Hal Landen
"Thanks! Using your report, I wrote my first letter of agreement last week and adapted it as you suggested. But I wish I'd had this report before I started my previous job. I would not be in the current situation I am with that client. I'll be lucky to get out of this one without giving him my children. Of course, giving him my children might teach him a lesson! :)" – Scott Brooks
Has that ever happened to you?
Or maybe you've completed a video for your client. Client loves it. You love it. That's one more happy client and a good video that will get you more work. While you're giving yourself a well-earned pat-on-the-back, you decide to add up all the hours you put into the job. You check the numbers again because this can't be right. But it is. You made an average of $8 an hour for producing that video.
Forget about buying that new zp40,000. It will be a stretch to pay the mortgage this month. Well, now it's time to STOP THIS MADNESS! You're in business to make money and to do that you must be paid fairly for your time. You can't charge $60 an hour for five hours and then give away ten hours for free. And you sure don't want to rip off your client.
You need a way of billing that holds no surprises for your client while it protects your business. That why I wrote Letters of Agreement For Ambitious Producers. So many people have asked me for this that I finally sat down and compiled it into a full-length report. When you read this report, you'll see exactly how to get paid for ALL the time you put into producing a video without any uncomfortable "situations" with your client.
This report includes a variety of "letters of agreement" for different types of business videos. (These are not for weddings.) I walk you through each sentence and clause and show you how to customize them to suit YOUR business. They're written in plain English because legalese only clouds the issue and puts money in lawyer's pockets. These letters will educate your client and help you build a solid working relationship.
Since you only make the sale when your client signs the contract, I give you tips on how to use these letters to help close the sale. All of these contracts include a simple one-page "Change Order." If you're not using this in your present contract, you're open to those $8 an hour situations. If you use it as I suggest, this one page alone can add thousands to your yearly income, prevent a lot of grief, and help build better client relations.
And if you save a couple of these letters to your computer, you'll be able to easily create different versions for different situations. You can have a generic version and several special versions that you can use again and again. Contracts for business videos can remove the risk for both the producer and the client.
Order Today and I'll include two Free Gifts:
A killer collection letter that gets the money from those late-paying accounts (the ones
you had before using these contracts).
A billing log form that helps you and your client know exactly how much time and money the project is taking.
Letters of Agreement for Ambitious Producers (Item #111) and the two free gifts are only $39.97.
This report is also included in the Professional Video Producer Home Study Course.