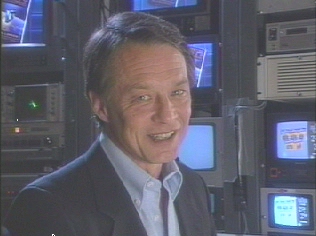 Video Business Coach
I'm a video business coach because I enjoy helping video producers, videographers and others in this fascinating, maddening, creative, but challenging profession. As a result of my broad experience in this business, I am in a good position to help others.
I have marketed, sold, pitched and contracted millions of dollars of video productions. Many were to Fortune 500 companies, but when I had a down turn in business, I learned how to pitch to low budget clients. But that's not enough. You must always produce a video that actually helps your client. There's no point to being in business if you can't do that. You must also make a profit – on every single job.
Working with the Fortune 500 is in some ways easier than working for small businesses and non-profits. But working with smaller businesses is often more fun. You are often working directly with the president or executive director so you get a bird's eye view of their operation. And your knowledge of video production and filmmaking is valuable to your client.
No Monthly Fees
Many business coaches want to hook you into a monthly retainer and that's OK, but you should have a choice. As your video business coach, I encourage you to buy as much or as little time as you need with no obligation to buy more. My goal is to help you succeed, not to run up the hours. It may take you a while to start some of our recommendations. So I don't want to charge you for this down time. When you're ready to start again, just give a call and we can take up where we left off to the next step.
Customized Marketing Plan
Together we'll work on a plan to market your business. There are many tools to choose from. We'll choose tools that make the most sense for your situation. It doesn't end with just the marketing plan. We will implement the plan one step at a time. We will move at your pace.
If you have a full-time job and want to build the production business slowly, we can do that. Or if you're already in business, but find you just don't have enough jobs, we'll work on that. It's all about you and your business. Your video business coach should be your most loyal ally.
Need Help Today?
If you're in the middle of making a proposal or contract, producing a tricky video project or something else on the spectrum, chances are I've been in the same situation. I will give you my best advice for how to handle your situation. You may need a written proposal, contractor other document. In many cases, I can email you the document you need and help you customize it to your exact needs.
I've been in the business a long time. If I don't have an answer for your video business question, I probably have a colleague or customer who has faced your situation. Without revealing anyone's secrets, I can tell you what has worked for other people.
Let's Get Started!
It begins with a phone call (401-253-2800) or email to Hal Landen. Just tell me in a nutshell what the problem is and how you would like me to help. I'll call you and give you some free advice about how to proceed. At this point there is no cost or obligation. If you want to continue, we'll agree to a fair hourly rate.
You can choose to buy as little or as much time as you want or just go session by session. There's no minimum time for a session. In some cases we can do an awful lot in just 15 or 20 minutes. We can stop the clock whenever you want.
I take being your video business coach seriously. I'm on your side. I want you to win this business game. So I will be honest with you.
If I don't believe you should spend money promoting your business at this time, I will tell you. I always respect the life situation of my clients. Business requires taking some risks. We can minimize but not eliminate those risks. I promise to never lead you into waters over your head. As your video business coach, my job is to help everyone who chooses to place their trust in me.
"I'm a video producer and I regularly rely on Hal for his expertise and knowledge in the sale of my videos. Matter of fact, I can't even count how many times he's rescued me from making some pretty expensive mistakes! Thanks, Hal. !" — Harry Lessinger, Harry & Maia Productions, LLC
Background
Hal Landen's production credits include:
* CBS "60 Minutes"

* ABC "20/20"

* NBC "Saturday Night Live"

* PBS "Newshour"

* Australian "60 Minutes"

* QVC

* AT&T

* Merrill Lynch

* and scores of others.
He produces films and videos for broadcast and a wide variety of corporations, non-profit agencies and small businesses. He has coached hundreds of successful first-time producers and pros.
Hal is the author and producer of books, special reports, videos and information products on the business of video production, including:
* The book Marketing With Digital Video: How To Produce Highly Effective Business Videos
For Corporations, Small Businesses and Non-Profits

* The special report Letters of Agreement for Ambitious Producers

* The home study course Professional Video Producer

* Numerous articles and guides at Video University
Testimonials About His Productions
"Hal Landen's commercial tripled our response rate yet cost only 1/3 as much as our previous spot.!" — Tom Walker, Sales Manager, Financial Services
"Your video helped us raise several million dollars from a group of foreign investors. And we hadn't even intended to use the video that way!" — Paula Slagle, Alloy Technology International
"Since I had never tackled a Video News Release, your help with the strategic planning was invaluable." — Kathleen Leach, Merrill Lynch Realty
"The footage you shot in Brazil was so well-received, we've decided to expand the show to a one hour documentary and sell it around the world, instead of just doing one segment." —Julie Ladner, Australian TV
"I couldn't recommend Landen more highly." —Joe Illigasch, Director of Operations, CBS 60 Minutes