Charles Clyde Ebbets (1905 – 1978) was an American photographer who took the iconic photograph "Lunch atop a Skyscraper."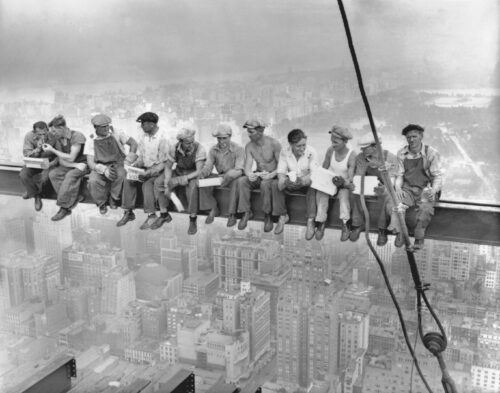 The 1932 photo was taken as a publicity stunt to promote the sky scraper called the RCA Building. While there is some uncertainty about the true author of the photograph, evidence seems to claim Ebbets as the photographer. The photo inspired a 2012 Irish language documentary entitled "Men at Lunch" (Irish: Lón sa Spéir) which examines the history of the famous photograph, as well as its Irish connections and immigration in New York City at the turn of the century.
The photograph portrays eleven men eating lunch while casually sitting on a steel beam 850 feet above the ground on the sixty-ninth floor of the RCA Building which is now called 30 Rockefeller Plaza in Manhattan. The workers were immigrant ironworkers who were used to walking on the beams.
I once filmed workers in a building under construction in a similar but less grand setting. Insurance and OSHA rules required us to wear safety equipment including a harness that was to be always connected to a beam in case you fell. It was easier if you did not look down. The helmet was always banging against the camera as you tried to frame a shot.
The photograph was taken as part of a campaign promoting the skyscraper. It was first published in the Sunday New York Herald Tribune on October 2, 1932, with the caption: "Lunch atop a Skyscraper." Other photographs taken depict the workers throwing a football and pretending to sleep on the girder. Central Park is visible in the background. The photographs alone can give you vertigo.
In 1995, Corbis Images, a company that offers archived images to professional photographers, bought a collection called the Bettmann Archive with over eleven million images. The "Lunch atop a Skyscraper" photograph was in the Bettmann Archive collection. uncredited. A spokesman for the company said the photo was originally received in a Manila paper envelope. The original negative of the photograph was made of glass, but it had broken into five pieces. The originals are stored in a humidity and temperature-controlled preservation facility at the Iron Mountain storage facility in Pennsylvania.