Legal Video Deposition Business Kit
Third Edition – Now Revised and Updated!
Increase Your Earning Potential by Becoming a Legal Video Specialist
Legal video is a fast-growing specialty area for independent videographers and small video business owners. And a good place to start in legal video is by taping depositions – a person's testimony that may be introduced as evidence at a trial. It's fairly easy work; shoot a subject being interviewed and capture what he or she says.
A legal video production business is a recession-resistant one. When times are tough, there's a natural increase in lawsuits which, in turn, results in more work for legal video specialists. The video deposition business can be an ideal sideline for the videographer who is available during normal business hours since most depositions occur on weekdays between 9 am and 5 pm.
There's little or no post production, no music, voice-over narration, titles or motion graphics. In fact, most video depositions require just basic equipment. But that doesn't mean there isn't skill involved. Video depositions are considered legal documents and must be done a certain way in order to hold up in court. No untrained operator with a cheap little camera and a built-in mic is going to get this kind of work.
No Prior Legal Experience Necessary
The good news is that you CAN get this work. There's no prior legal videotaping experience necessary. If you enjoy using your camcorder, and have some basic dependable equipment, you can do it too. (For those of you who already own a ton of equipment and a wealth of experience, you may even have to unlearn a bit because depositions are legal documents and must be done a certain way.)
If you're up to learning a new way to earn some good money – we've got what you need to succeed.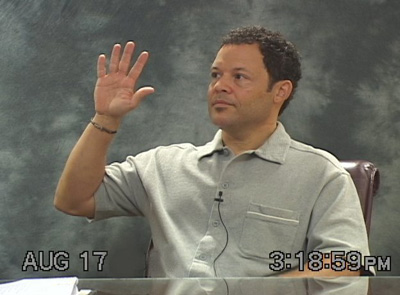 Videotape witness testimony for use in court.
Introducing The Legal Video Specialist Business Kit from VideoUniversity
The Legal Video Specialist Business Kit contains all the information you need to know to begin making big bucks in the legal video business:
"All of those "certification programs" are FOR PROFIT programs designed to separate you from your cash. If you have any experience and wish to cut to the chase, check out Video University's Legal Video Specialist Business Kit- it's worth every penny."
Gail Wolt
Step-by-step instructions for setting up a legal deposition video business
Marketing strategies and secrets
Easily-customized must-have forms and checklists
Detailed explanation of standards and best practices
Guide to setting both your policies and your prices
Complete equipment lists and recommendations
Our iron-clad 90 day money-back guarantee
You've Got Questions. We Answer Them All – And Then Some
"Do I really need to go through expensive certification courses?" Not really. Certification might help you, yes, but it's not absolutely necessary, particularly when you're just getting started. We'll show you how to work around it.
"Who is the real target audience for my video services?" The answer is really going to surprise you!
"How far can I take this business, anyway?" Work it part-time, work it full-time, add it to your existing video services. We'll show you your profit potential and help you build a roadmap to reach your goals.
"I hear clients can cancel the job while you're still setting up your equipment." Yes, this can happen if a settlement has been reached just prior to your appointment. However, we show you exactly how to set up a minimum billing policy -so even if your deposition is cancelled, you receive a minimum -usually two hours at your normal billing rate.
"Your kit helped me tremendously in preparing for my first job. You have a great product."
– Tim Dyer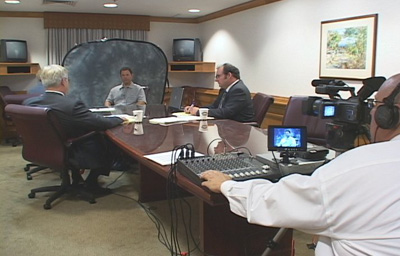 "Depositions can be easily set up and recorded."
Everything you need in one package!
"A few years ago, an attorney friend asked me to shoot a legal video deposition with my home camcorder. Little did I realize that day would open the door to the greatest financial opportunity of my life! ….That was the day I became a legal video specialist. It was the best decision I ever made. I used my own camcorder, bought a few microphones and a mixer and in five years I grossed well over a million dollars in sales. The work is easy, the hours are great, and I get to do what I love best -shooting video with my camcorder!"
Mark Haller
You supply the gear and a little time learning the ropes, and we'll do the rest. The Legal Video Specialist Business Kit includes everything you need to know to successfully start and grow your legal video business. And there's no need to spend thousands traveling to expensive certification seminars -you can get started immediately with our in-home study package. It includes:
Instructional DVD – This brand new tool contains over 73 minutes of video showing you, step-by-step, how to set up and grow a lucrative legal video business, using proven strategies. We'll also show you some new equipment options that make your work better and easier.
50 – Page Printed Guide – A lot of necessary information you won't find anywhere else. Plus checklists, a sample business plan, and a marketing guide!
Bonus CD – Includes easily customized forms you'll need to get started, a comprehensive legal glossary, complete Federal rules for depositions, checklists, a 10-page business plan you can adapt for your own use, and some very successful marketing tools!
In addition, you'll be subscribed to course updates and additions -for life!
Permanent access to exclusive online Q&A legal video forums.
Earn extra money or start a brand new career. There's nothing to lose.
The legal industry is BIG business. This is not a business where competition is high and billing rates are low. Because your clients are professionals, you can charge more for your time. Deposition billing averages about $100 an hour, with most savvy legal videographers asking for (and getting) a two-hour minimum.
No-Hassle 90 Day Money-Back Guarantee
We guarantee this information will significantly boost your profits, or simply return it in good condition for a full refund. Study the DVD, printed manual, and the rest of the bonus materials. If it doesn't meet your expectations or fit your business goals, return it up to 90 days after purchase with no questions asked. It's that simple.
So go ahead. What are you waiting for?
Want To Go Even Deeper Into The Legal Video Field?
You may be able to find all the work you desire producing video depositions; but if you're interested in expanding into other areas such as day-in-the-life or settlement videos, video wills, forensic video analysis, and more, we recommend you consider our "Produce Day-In-The-Life And Settlement Videos" program. More info right here.
SPECIAL INTRODUCTORY OFFER: Get both The Legal Video Specialist Business Kit and our Produce Day-In-The-Life and Settlement Videos program (items #140 and #240) and save $50! Priced separately, they're normally $184.00 but for a limited time, you can get them both for just $134.00 – a $50 savings! And we pay shipping, too.
Additional information
| | |
| --- | --- |
| Choose | Legal Video Deposition Business Kit $107.77, Legal Videography Combination $134.00 |