How To Sell Corporate Videos With These Powerful Techniques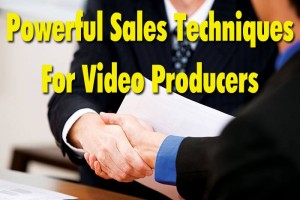 90 Day Money Back Guarantee
Powerful Sales Techniques For Corporate Video Producers
55 Pages PDF file
Item #152
Price: $49.95
90 Day Money Back Guarantee
An Exclusive Offer from VideoUniversity.com!
Don't Be Caught Speechless!

Top Corporate Video Producers Share
Their Sure-Fire Answers to 16 Common New Project "Interview Traps!"
Dear Fellow Producer:
Are you intimidated by the face-to-face interview?
Find yourself speechless at a client's questions?
Then, this newly-acquired e-book is just the resource for you!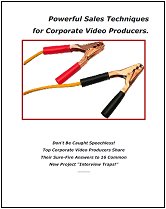 "Powerful Sales Techniques for Corporate Video Producers" is an easy-to-read guide that tackles all the tough questions producers face from their clients and prospects during almost every meeting -from "Why are your prices higher than other producers?" to "Can't we just film our new Widget Maker in action and bring the video footage over so you can finish up the program?
It'll have you nodding in recognition and -more importantly -taking notes and developing a strategy for your next encounter with a corporate prospect! Learning how to sell corporate videos is an excellent investment.
This is the first time this video producers' "secret
weapon" has ever been offered to the public.
This exclusive product is only available on VideoUniversity.com. This invaluable tool has helped give many video producers a huge advantage over their competitors.
What makes it so good?
"Powerful Sales Techniques for Corporate Video Producers" was born as a result of a little reminiscing by with a fellow corporate video producer. He remarked how, when he was preparing to graduate from college and just beginning his search for work, he came across one of the handiest resources he had ever used.
"One of the books I bought," he said, "provided a list of 20 questions that a job seeker should be prepared to answer quickly, calmly, and convincingly. This book offered the reason behind the questions the interviewer asked, how a job seeker could use these questions to their advantage, and sample answers." The book became a resource he used throughout his career.
Upon hearing this, a couple dozen very experienced corporate video producers got together and developed a list of 16 questions they most often encounter while marketing their video services or products to prospects.
Next, they all provided their ideal answers for each of the questions; answers that you can use while out building your own successful corporate video production business.
Here are some of the questions this book prepares you to answer:

"Can you tell me a little about yourself?"

"Why are your prices higher than other producers? Why should I come to you?"

"So -Who are your clients?" (When you don't have any yet.)

"How much is this going to cost me?"

"Why shouldn't we just have the kids at the high school do it?"

"I had a number in mind about half of the price you stated. Can you sharpen your pencil a bit?"

"Can you JUST…?" (Implying that what your client is asking is a trivial change that should only take a few minutes, when in reality it's several hours worth of work.)

"Can we just tape the stuff and bring the footage into you to finish up?"

"Why should we work with you? You're smaller than Acme Video!"

"We have this video we need produced in a couple of days (that you know full well should take a couple of weeks). Can you do it for us? And for how much?"

"We've got a PowerPoint and some Disc Cam footage. Can you make a nice video for us?"

"I know exactly what I want. Can I sit with you and tell you what I want while you edit?"

"I need to see samples. Can I see samples of your work?" (When you don't have any.)
There's more than one "right" way
Just as there's more than one approach to business, you'll find that some questions have multiple answers. Some questions may even have answers that contradict each other. Each answer, however, has proven successful for the person who used it.
You have the option of choosing the one that best fits both your own method of operating and your own business philosophy. Or take two or more answers and combine them into one answer that works best for you.
Flatten your competition by having the right answers available – every time!
You'll find:

Critical insider secrets about how to present yourself when approaching a new client for a project

What experts in the field say when asked difficult questions related to acquiring corporate production work and getting contracts

Rationale supporting your fee structure, and

More confidence in your initial client and prospect meetings
It's been said that "Chance favors the prepared mind," and I believe it to be the truth; for me, there's no better feeling than when I walk into a situation where I'm going to be called upon to answer tough questions, and I know all the answers in advance.
"Powerful Sales Techniques for Corporate Video Producers" will give you a head start and make your job easier. Refer to it often as you prepare for client meetings. Determine which answers are best for you. Or create your own answers once you read what other people would answer to a given question.
Properly applied, this book will give you that feeling of confidence again and again throughout your career as a successful video producer!
Let top corporate video producers give you the answers to the 16 most common deal-breaking questions -all in one sales-saving guide!
"Powerful Sales Techniques for Corporate Video Producers" is now available for an introductory cost of $49.95. This includes a complete set of Workshop Sheets for each of the 16 questions covered in the e-book. You can use these to fine-tune your answers before your next meeting with a prospect.
We offer a 90-day, money back 100% satisfaction guarantee. If you decide that "Powerful Sales Techniques for Corporate Video Producers" won't help you grow your business, we'll refund your purchase in full, no questions asked.