Start Your Own Video Transfer Business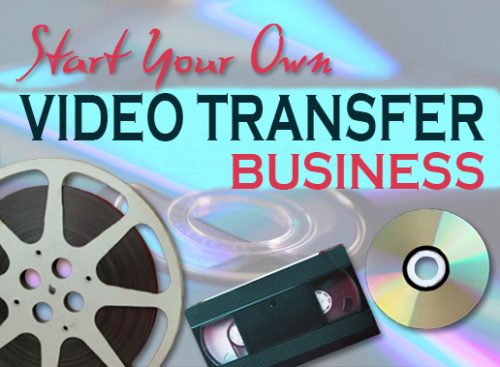 New Business Guide shows you how to start your own video, film, photo and slide transfer business.
New Business Guide shows you how to
Start Your Own Video, Film, Photo and Slide Transfer Business
The video transfer business may seem like an obvious service for video producers to offer, but it's amazing how many producers do not offer it. There's some real money here. And like many video services, a new customer will often buy other video services from you. It's good synergy. The equipment needed is inexpensive. You may already own some of it. Transferring photos, slides and film to video adds lots more profits and opens all kinds of creative possibilities. A photo montage alone can become Keepsake Videos, Memorial Videos and a lot more. Look what Ken Burns did with it! And if that's not enough, consider Video Biographies that can sell for up to $15,000. Video Biographies can be done mostly with still photos and home movies. Add narration or an interview on video and you can create a really valuable documentary. Even the smallest town holds great potential for these video services.
Four Core Services to Offer
* Home Movie Transfers to DVD, USB drive, or the Cloud
* VHS and Other Video Formats Transfers
* DVD and CD Duplication
* Photo and Slide Transfers
After you launch the video part, it is easy to bootstrap the other transfer services. In fact, that is the only smart way to do it. And you will find this brings the same customers back for film, photos and slide transfers. USB drives are superior in many ways and some customers prefer them to DVDs. But even better is the Cloud. You can give your customer their own free Dropbox or Google Drive account with their home movies already uploaded so distant family members can enjoy the movies and photos. Discover how to white label your own cloud for customers and change them a monthly fee. The place to start is by building a firm foundation in those four services. We'll take you through each service step-by-step.
You may think VHS is completely obsolete and in some ways of course you're right. However there is good money to be made transferring VHS tapes to DVD. I recently did a VHS transfer job that was over $800. All it takes is a machine and the blank media. There are still millions of VHS home movie tapes people would love to have on DVDs or other devices. And you should help them. Otherwise, you're leaving a lot of money on the table. You'll learn how to buy the best equipment for your budget and goals. Learn the best ways to transfer photos, slides and all kinds of film to DVD and video.
Forget about trial and error; choose the right equipment, supplies and blank discs right from the start. You'll learn the techniques and perhaps more importantly what business strategies and policies are proven to work for these services. We'll look at the film to video transfer business in great depth so you will have the confidence to start that profitable service the right way.
You might think this film transfer business must have run its course by now, but you'd be wrong. The business of transferring film (8mm, super 8 and 16mm) to DVD or digital is much larger than you'd think. That's why CVS, Walgreen's and most of the other drug store chains offer those services! And believe me. They're in it for the money.
You'll learn the easy way to compete and win against these large impersonal corporations. There are three major chain stores close to my home and yet people come to me with their transfers. Think about it: Would you give your own precious 40 year old home movies to a clerk in a drug store who will send your films out of state to a nameless corporation somewhere? Or would you rather have a trusted neighbor who lives in your same town do a careful transfer? I guess it's obvious. And that neighbor could be YOU.
Transferring VHS and other formats to DVD, USB drive or the Cloud can also be a lucrative business especially when you have the right gear. Typically, a customer will bring you, not one or two tapes, but a large box of tapes. It's so nice to make a profit on the very first job!
Secrets Of Running A Successful Video Transfer Business
Offering all of these services at the same time is one of the keys to making it work. You can do just fine offering only video transfers, but the fun and great profits begin when you add more services. Each of the services is related to the others. The customers for one service will often want a second or third service. It's an ideal synergy. And duplication is a natural add-on to offer anytime you are producing videos whether it's a Keepsake Video, Memorial Video or anything else.
Another key is having the right gear. Why use a flatbed scanner when you can use a high speed scanner that can scan 50 photos a minute? And for slides, there are new machines that scan 50 slides at a time unattended. The right gear is, as always, one of the essential elements for doing any job. Last month a customer brought me 5000 photos to scan! Even at 50 a minute, it took a while to do. But what a paycheck! The customer was delighted and has been telling everyone she knows. I've experimented with a dozen or so marketing techniques for the video transfer business. I kept meticulous records of where each sale came from. And I will share them all with you. Including all the tricks I've learned to maximize the sale and the offer which turns a no into a yes. We'll show you step-by-step how to win this marketing game.
Smart Pricing
Smart pricing is an important part of any business and the video transfer business is no exception. You want to set your prices for maximum profitability while also being very competitive. We'll show you our own prices and give you reliable advice on how to set your prices. You'll also receive an authoritative article on how to set the best prices for any home-based business. This will get you off to a running start. See why local customers are willing to pay a lot more to ensure their precious family media are not lost in the mail by an impersonal corporation. Since the last version of this book, the duplication side of this business has changed. A small tower will handle most of the jobs. Even when a customer does not ask for extra copies, they will often change their mind when you tell them, you can make the extra copies while they wait. That's an easy way to double the income.
Surprisingly, the outlook for DVD and Blu-ray discs is still strong. While sales of DVDs are definitely down, they are not dead by any means. Don't count them out because millions of Americans still prefer discs to online video and a great many people use both. For home entertainment and long-term usage, many believe that DVDs and Blu-rays simply offer better value. It's also easier to sell or rent a DVD at supermarkets, gas stations and other retail outlets than selling a download. The majority of my customers ask for a DVD. Some want both a DVD and a USB drive. Some want the cloud in addition to a disk or drive.
Start Small With Little Or No Investment And Bootstrap It As You Go
A surprising aspect about these businesses is the low cost of entry. The equipment is inexpensive. You may already own some or all of it. It's an easy kind of business to bootstrap. Start small and ramp up only when your business needs more capacity. The marketing costs are also extremely low. We'll show you how to get FREE publicity for your business and all of your products in local publications and websites. We've even included press releases you can use with just a couple modifications. You'll discover how to insure your business is top ranked in LOCAL Google searches. You'll see the steps one small company took to gain #1 rank in Google's coveted 3-pack local listings map. This local ranking is vital to a local business. It can make or break you and we'll show you exactly what to do to insure success. Of course you'll have to roll up your sleeves and invest some elbow grease, but when you look at the returns you can make, this is a no-brainer.
"Start Your Own Video Transfer Business" is full of solid advice and proven strategies for making exceptional profits in this home business. And here's something you don't often hear. This ebook comes with a 90 day money back satisfaction guarantee. I want you to be completely happy with this product or I will give you a full refund. Fair enough?
Additional information
| | |
| --- | --- |
| Choose Package | Base Package: $49.95, Video Biography Combo: $79.00 |