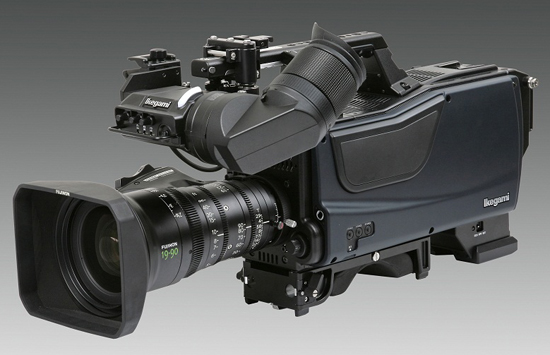 Ikegami and the Japan Broadcasting Corporation (NHK) have joined forces to create the first handheld 8K video camera, the Ikegami SHK-810. Ikegami's previous 8K camera is ten times the size. The SHK-810 is intended for both studio and field production. It weighs less than 20 lbs.
This camera is UHDTV which stands for Ultra-high-definition television and includes both 4K UHD (2160p) and 8K UHD (4320p). According to The Japan Ministry of Internal Affairs & Communications, test broadcasts of 4K/8K via satellite television will start at the 2016 Olympic and Paralympic Games in Rio de Janerio. This will be followed by 8K on-air broadcasting starting in 2018 in Japan
Features of Ikegami SHK-810 8K UHDTV camera
Single 33 million-pixel Super 35 CMOS sensor
4,000 TVL horizontal and vertical resolution
A System Expander that permits the use of large viewfinders and studio lenses converting the handheld camera into a studio camera.
PL-Lens mount accepts 8K lenses, cine lenses, 4K lenses and custom-designed zoom lenses for single-chip SHV cameras.
A flange-back adjustment system is built-in, enabling back focus adjustment of PL-mount lenses without shims.
For more information see Ikegami.
There are a number of predictions that 8K will never become a standard because vector based video will soon make pixels obsolete. More about this later. Could this be the first and the last 8K handheld camera?