The Founder | The People Who Make a Difference | The Website
The Founder

Hal Landen's media career began in the early '70s when he founded "The Country Journal," a newspaper serving the people of north central Vermont. After successfully launching the paper, he became fascinated with the creative possibilities of film and television, and accepted a job with ABC Sports in 1975. It was there at the cutting edge of television that he learned from some of the best cameramen, editors and producers in the business.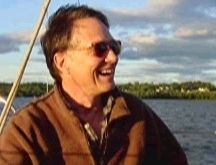 In 1977 Hal became a freelance cameraman and producer. Since that time his award-winning work has taken him to such locations as the Philippines, the North Sea, Brazil, and El Salvador for clients such as Warner Brothers, AT&T and CBS "60 Minutes." His assignments have included a documentary in the Amazon jungle, television commercials, and interviews with Katharine Hepburn, Sean Connery, and Woody Allen.
He has produced hundreds of successful marketing and training films for a variety of industries and human service agencies. When asked to recommend books to help small businesses and non- profits use video, he found none that were suitable for business people. This prompted him to write "Marketing With Digital Video: How To Create A Winning Video For Your Small Business or Non-Profit."
His favorite hobby is sailing. He has been restoring Satin Doll, an ocean-going 29 foot yawl which he sails often in Narragansett Bay and vicinity.
The People

You can't do it alone. Numerous freelance writers, producers and geeks have contributed mightily to this website. People such as Doug Graham, Steve Yankee, Todd Finney, John Kleban, Kay Harrison, Ed Tsunoda, Gary Hoyt, David Greenberg, and thousands more who have contributed to the VU Forums, and the Free Library, and generally have supported this website and what it aspires to be.
The Website
"Master the Art, Technology, and Business of Video Production." That's just what we've been helping people do on this site since 1997. If you spend time on the Forums on this site, you will see that a lot of what goes on here is friends helping friends. We all love video production. So we share our knowledge and ask others for help.
While the website is generally open 24 hours a day, we try to field all phone calls from 9 – 5 EST Monday through Friday.