Here's What You Get:
Paperback: 252 pages
Five C's of Cinematography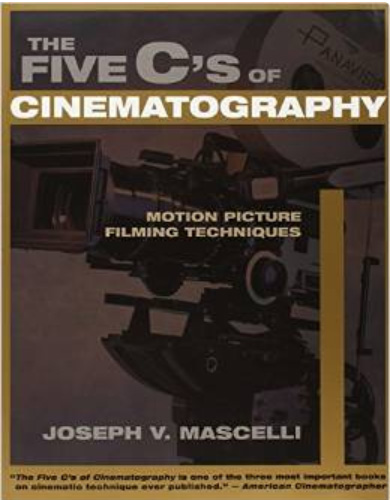 "Mr. Mascelli provides the attentive reader with the equivalent of a complete course in filmmaking."
—The New York Times
"The Five C's of Cinematography is one of the most important books on cinematic technique ever published."
–– American Cinematographer
This is one of those books you should read every few months until it all becomes second nature for you. The five C's include:
Camera Angles — Objective, Subjective, Point-of-View, Subject Size, Subject Angle, Camera Height
Continuity — Cinematic Time and Space, Filming Action, Master Scenes, Screen Direction, Transitional Devices
Cutting — Types of Editing, Cross-Cutting, Cutting on Action
Close-ups — Over-the-Shoulder, Cut-in, Cutaway
Composition — Compositional Rules, Compositional Language, Types of Balance, Attracting or Switching the Center of Interest.
"This is really one book that will be read and referred to throughout my professional career as a camera operator for film and electronic cinematography." Jesse N.
This is not just for cinematographers, it is very helpful for any artist who tells stories with visuals, whether graphic novels, web sites, or animation. One senior animator says "Every animation student should own this book."
"So, in the last year, I've bought a dozen books on cinematography. Some are good, but none are as good as The Five C's. And I nearly didn't buy it because of the 'dated-ness' of it. The best, most complete and total book I've read yet on the nature of cinematography. There's 65 pages on camera angles alone, and if anything, it could be a little longer. This is a MUST HAVE for the library." Chad W. Boyer
The simple truth is that if you do not know filmmaking rules you will not make an interesting film. After you've mastered these rules, then you can break them. This book is all about filmmaking technique. It was written in 1965, yet none of its information is out-of-date. The book is not about technology. It's about technique. This book covers the principles in a way that no other book does. One of the most important principles is Center of Interest, and that's something all storytellers need to master.
The Five C's is one of the most widely respected books on filmmaking ever published. It includes hundreds of photographers and diagrams. The book clearly and concisely presents the essential concepts and techniques of motion picture camerawork and the allied areas of filmmaking that they interact with and impact. In addition to the C's—Camera Angles, Continuity, Cutting, Close-ups, Composition, the book is a practical course in visual thinking. It also includes:
• Cinematic time and space
• Compositional rules
• Point-of-view
• Camera height and angle
• Master scenes
• Types of editing
• Screen direction
… and much more.
Despite what many amateurs and even some professionals think, technology does not make your film good, it just makes it easy. Technique is what makes it good. This first paperback edition of The Five C's allows Mascelli to reach a whole new generation of filmmakers with his timeless insights into the fundamentals of filmmaking. If you want to learn cinematography, start with this book.
Joseph V. Mascelli is an highly respected cinematographer who has filmed theatrical features, documentaries, training films, television commercials and television series. He wrote extensively about camera work for photographic magazines and trade journals, was an editor of the American Cinematographer Manual, and lectured on cinematography at Loyola University of Los Angeles.