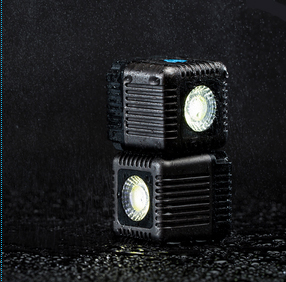 The Lume Cube is a one and half inch cube LED flash or constant light for photography or video. It puts out 1,500 lumens and 6000 K. The light was intended for use with GoPros, drones and smart phones, but it is perfectly suited for use with DSLRs and other video cameras. It's smart phone app can control up to 5 cubes. The shell is waterproof to a depth of 100 ft. The cube has ten levels of brightness and weighs less than 6 ounces. The internal, non-replaceable battery runs for up to 8 hours at low intensity. It is charged via USB. The Lume Cube LED has a standard 1/4 x 20 thread port. The light covers an area of 60 degrees.
The high-powered LED will emit heat during continuous use. It has an internal heat sensor that will shut down to prevent damage.
Lume Cube LED Mounts and Accessories
There is a available mounting bar for the GoPro which attaches a light on either side of the camera. This is necessary because the GoPro's field of view is 180 degrees. This would be a great way to dive with a GoPro mounted with two lights in a compact, easy-to-hold package. It will also work for filming nighttime activities such as night surfing. Flying drones at night requires lights and there is a mount Lume Cube drone mount for the Yuneec Typhoon H as well as mounts and lighting kits for the DJI Phantom 3 and 4 and for the DJI Inspire. Use a pair of these lights to add 3000 lumens to night drone operation.
Attach a Lume Cube LED to your smart phone with their phone mounts. Use the hot shoe mount with adjustable ball head to mount the light on a DSLR or other camera. Add the base stand to the hot shoe mount and you will have a mini light stand.
Controls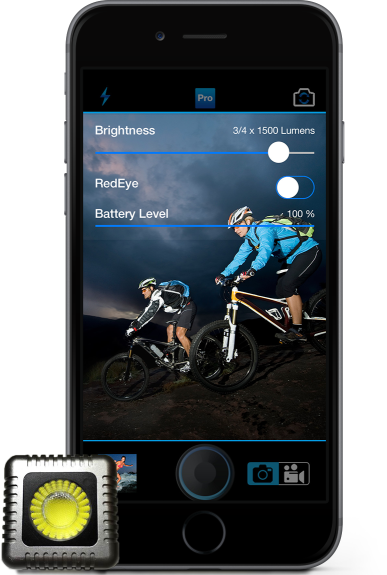 You can control the Lume Cube LED light either through the phone app shown above or simply by using two buttons on the top. When using it as a continuous light, the left button is the on/off and brightness control. The right button wakes up the Bluetooth. It also activates the optical sensor and can turn off the constant light. The app can do these functions as well as control up to five Lume Cubes.
As a flash for still photography, there is no recycle time. The Lume Cube LED is available at Amazon http://amzn.to/2d3pMBD.