Blu-Ray Test Disk and Kit
Item #BRD
Price: $29.97
Plus $6.45 shipping in the US
90 Day Money Back Guarantee
Here's what you get:
1. Blu-Ray Calibration Disc
2. Printed Users' Guide
3.Blue Viewing Filters
---
You've invested in a great HDTV system. Now make it beautiful.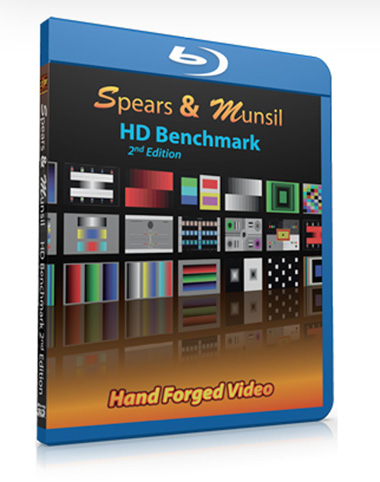 Want the best Picture Quality Calibration and Evaluation Tool for Monitors, Displays, Blu-ray Players and Video Processors?
The disc is chock full of test material and calibration patterns to help HD afionados adjust their home theater systems for optimal playback.
The disk includes includes a 3-minute montage that was shot entirely on the RED ONE camera at 4096×2048! This alone is a great demo for your home theater.
Spears & Munsil have definitely set the standard for HDTV calibration. I have used other calibration BD's and they were great, but none came close to this one. It even proves that my TV "Cine-motion" feature was better turned "off".
– Travis A.
This 2nd Edition disc includes a number of film and video deinterlacing clips that will help you evaluate your a Blu-ray player, video processor or display. This is useful if you are looking to upgrade or want to know how well your system performs now. These tests are available in both HD and SD, which will allow you to not only test native HD, but up conversion too. It includes many tests with uncompressed videos so you can see what your HDTV is capable of.
Stacey Spears and Don Munsil, who created the highly-regarded DVD Player BenchmarkTM and Progressive Scan Shootout at Secrets of Home Theater and High Fidelity®, have applied all their technical wizardry to this Blu-Ray Test Disc.
The static test patterns in this disc are the current state-of-the-art. They are more accurate than patterns found on previous discs. Even the simple color bars have unique traits that make them cleaner.
It's great that they include the blue filter glasses. The other calibration discs I bought did not include the glasses so I had to skip those patterns. Now I can see all the patterns. This calibration disc has given me confidence that I am getting the best performance possible from my setup. I highly recommend it.- Steve D
IMPORTANT: This is a high-definition disc and is compatible only with Blu-ray players. It will not play on a standard DVD player.
Features:
– Calibration patterns for all major display controls
– Evaluation patterns for measuring display and player quality
– Clips to test deinterlacing performance
– Samples of different video and audio codecs
– All patterns created at 1080p in native color space
using proprietary software
– All features of the first edition disc
– 3D stereoscopic calibration and evaluation patterns
– Audio tests for speaker setup, calibration, and A/V sync
– Motion patterns to evaluate 120Hz and 240Hz interpolation modes
– More help for the home theater beginner
– More patterns for the advanced user or professional calibrator
The Spears and Munsil HD Benchmark is the most accurate and comprehensive HD test disc available anywhere. Every pattern was created using our exclusive ultra-high-precision software tools and represents the state of the art in video reproduction.
Note that all 3D patterns require a 3D Blu-ray Disc player and 3D television. The 2D material will play in any Blu-ray Disc player.