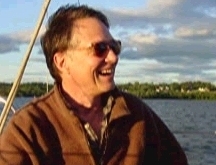 Hal Landen graduated from Goddard College with a major in English. His media career began when he founded "The Country Journal," a newspaper serving the people of north central Vermont. After successfully launching the paper, he became fascinated with the creative possibilities of film and television, and accepted a job with ABC Sports in New York. It was there at the cutting edge of television that he learned from some of the best cameramen, editors and producers in the business.
Hal became a freelance cameraman and producer. Since that time his award-winning work has taken him to such locations as the Philippines, the North Sea, Brazil, and El Salvador for clients such as Warner Brothers, AT&T and CBS "60 Minutes." His assignments have included a documentary in the Amazon jungle, television commercials, and interviews with Katharine Hepburn, Sean Connery, and Woody Allen.
He has produced hundreds of successful marketing and training films for a variety of industries and human service agencies. His book "Marketing With Digital Video: How To Produce Highly Effective Business Videos For Corporations, Small Businesses and Non-Profits"helps others produce effective business videos on small budgets. The book is available here.
Since that first book which is now in its third edition, he has created a number of books, videos and other products for video producers.
His favorite hobby is sailing. He has been restoring Satin Doll, an ocean-going 29 foot yawl which he sails often in Narragansett Bay and vicinity.
Contact Hal Landen
c/o Oak Tree Press
9 King Philip Ave
Bristol, RI 02809
Call (401) 253-2800
Send Email