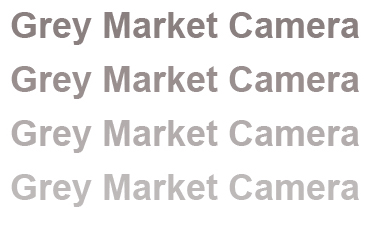 What are grey market items?
Retailers and mail order companies sell most products with a warranty from the manufacturer or from the manufacturer's licensed importer. This is called the white market. On the other hand, products that are obtained from sources other than the manufacturer or its licensed importer are called "grey market" products. Grey market products are not illegal. Nor are they factory seconds or demo merchandise.
They are the exact same items, made by the same workers in the same plants as white market or US warranted items. The difference comes from who is selling the item and especially who is guaranteeing it. These products are sometimes called "direct import" or "imported," but grey market is the most common term. The grey market arises when the same item is available at different prices in different countries. Sometimes these price differences are great.
There are three differences between White Market and Grey Market items. The first is price.
The price differences can be significant when it comes to camcorders. It is impossible to track the number of grey market products sold, but it is clearly a widespread practice.
The second difference is the warranty coverage.
And the third difference is that "grey market" products never qualify for manufacturer's rebate programs.
Grey Market Camcorders & Warranties
Part 1
As one camera manufacturer says "To ensure you receive guaranteed warranty service on your purchase, we recommend only purchasing products that are designated USA products." To check out a seller, visit one of the rating sites such as Reseller Ratings.
While no numbers have been published, there are a great many grey market retailers. One example is eBay which features numerous grey market goods. Some say they have contributed to the growth of grey market.
Most large retailers have direct relationships with manufacturers, but there are some items that are not otherwise available in the USA through normal distribution channels. One is example is PAL video gear. PAL is a TV standard that is not used in the U.S. U.S. television uses a different standard called NTSC which is also used in Canada, Mexico, and Japan. PAL and NTSC are not interchangeable recording formats. For more information on PAL and NTSC see World Wide TV Standards.
PAL format video gear is only available in the U.S. as grey market and as such does not include a factory authorized warranty. But the retailer typically offers their own warranty that is very similar to the manufacturer's warranty.
Not all products are available in the Grey Market. Rolex watches, for example, are not available in the grey market because Rolex owns both the wholesale and retail channels. They control the number of watches sold and ship them directly to authorized Rolex dealers around the world. There is a black market in counterfeit Rolex watches. These illegal watches may not work for more than a day. So never buy a brand new Rolex watch that is not sold by an Rolex authorized retailer.
To determine if a company is an "authorized dealer" of a particular item, go to the manufacturer's website and look for a list of authorized dealers. If you can't find the list, call the manufacturer.
Should You Buy Grey Market?
When considering a grey market item, one of the considerations is how likely is it to need repair. A camcorder is much more likely than a lens. So buying a grey market camcorder is riskier than buying a grey market lens.
Typically, the manufacturer does not warranty a grey market item. The seller may offer to send it back to the country where he purchased it for repair, but there are many problems with this approach.
Buying a grey market item is like buying that same item for a great price while traveling in a foreign country. If you return home and need any warranty work, you might need to ship it to the country where you purchased it. Delays in customs and other issues can make this time consuming and risky. International transportation also increases the risk of theft.