A waveform monitor is a special type of oscilloscope used to measure and display the level, or voltage, of the lines of a video signal over time. The light in a scene is translated to voltage with brighter light showing as higher voltage.
Many videographers shoot beautiful video without ever learning how to use a waveform monitor or vectorscope. Since many professional cameras now have these instruments built into the camera, it's worth understanding how to use them. They can only improve your shooting. Think of your waveform monitor as a light meter whose job is to help you get the right exposure. It's a step up from zebra bars.
Features of Waveform Monitors
Larger productions will often have a waveform monitor and vectorscope. Originally, these were separate devices. Today many waveform monitors include the function of a vectorscope. With the transition to digital video, waveform monitors offer additional features. Some waveform monitors include a picture mode. This places the video picture on the screen like a video monitor or television. Other waveform monitors support the audio portion of video. The audio is either embedded in the video or obtained from separate audio inputs. Video metadata such as timecode, closed captions and more can be displayed on some modern waveform monitors.
Editing software such as Final Cut Pro and Premiere Pro offer their own built in scopes. There are also software-only waveform monitors which use a laptop or desktop computer such as:
Scopebox for Mac
4K Scope from Drastic TV
Multiscope Lite for PC from Rumble House.
Aside from managing video exposure, a waveform monitor is also very useful for matching multiple cameras at the same location.
The following 3 minute video shows you how to use a waveform monitor.
This is what Color Bars look like on a waveform monitor.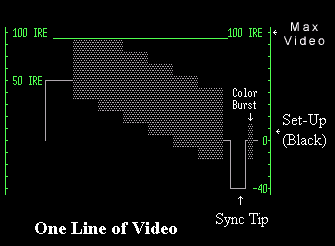 Now that you know the basics, practice using a waveform to make better video. For HD video, good exposure is very important.