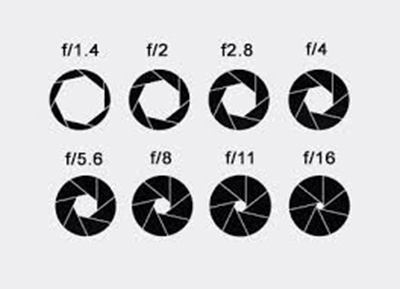 To understand the sweet spot of a lens, we need to look into the math of f stops. Don't worry. It's not that bad and once you get the basic idea, you will be able to apply this knowledge in many situations.
F stop is the measure of how much light can pass through a lens. The smaller the number, the wider the hole and the more light that can pass through. F stops are a ratio of focal length (distance of the focal plane to the lens,) divided by the diameter of the lens aperture. Because it is a ratio, it is always written as a fraction – f divided by a stop number like f/2 or f/4. By doubling the diameter of the stop number from f/4 to f/2, you get 4 times as much light striking the sensor.
Make a list of doubling numbers: 1, 2, 4, 8, 16, 32, 64, 128. Now take the square root of each. You get 1, 1.4, 2, 2.8, 4, 5.6, 8, 11 (11 is 5.6 doubled and rounded off) This is the standard f/stop scale. It's a geometric sequence. Each stop on the scale represents half as much light. So a lens that is rated f 1.4 allows in twice as much light as a lens that's rated f/2. That's 8 times as much light as an f/4 lens.
Here's a trick to remember the f/stop scale. Just remember f/1 and f/1.4. With these you can find all the rest by simply doubling the numbers.
2 times 1 is 2.
2 times 1.4 is 2.8.
2 times 2 is 4.
2 times 2.8 is 5.6.
2 times 4 is 8.
2 times 5.6 is 11 which is rounded off.
Kinda cool, huh?
The Sweet Spot of a Lens
The sweet spot of a lens is the sharpest aperture setting. While each lens is different, the general rule of thumb is that you get the sharpest point by stopping the aperture down 2.5 to 3-stops from the lens's maximum aperture. So if the maximum aperture of your lens is f/2.8, you'll want to shoot with your lens aperture set between f/5.6 and f/8 from the widest opening.
If your lens is an f/1.4, meaning its widest aperture is f/1.4, then the sweet spot of your lens is somewhere between f/2.8 and f/4.
This sweet spot of a lens is not the same as depth of field. When you stop a lens down to smaller apertures, more of the image is in focus. Stopping a lens down to smaller apertures does not the increase the focus equally fore and aft of your subject, but rather 1/3 in front of the subject and 2/3 behind.
But what many shooters don't realize is that you will also get softer images with the aperture at its smallest opening. This is caused by diffraction where the light rays are bent slightly as they pass through a very small aperture. So beyond a certain aperture the images are increasingly less sharp. That's the trade-off to using smaller apertures to achieve a greater depth of field. At some point the aperture size will cause some softening which is caused by diffraction.