Emerging Alternatives to Continuity Editing: The Director Becomes Editor
An early film which demonstrates an alternative to continuity editing is from surrealist Luis Bunuel who directed and edited "Un Chien Andolaou" (An Andalusian Dog) (1929). He worked with fellow Spaniard and surrealist Salvador Dali. The film has no plot, and like a dream, the film is disjointed, jumping around in time without the characters changing. It can be thought of as a free association in a narrative progression. It is a silent film, but Bunuel specified exactly which pieces of music were to be played with it. The film is practically an antithesis to the Hollywood Continuity style.
See "Un Chien Andolaou" (An Andalusian Dog.)
In the 1960s, new lightweight, hand held cameras and recorders encouraged a freewheeling documentary style called "cinema verite" which could record real events as they happened. French filmmaker Jean Rouch and sociologist Edgar Morin made a documentary entitled "Chronique d'Un Ete" (Chronicle of a Summer). This 1960 experimental documentary is a good example of "cinema verite". The following scene is representative of the film:
Albert and David Maysles were an American documentary filmmaking team whose "cinema verite" works include "Salesman" (1968), "Gimme Shelter" (1970) and "Grey Gardens" (1976). Their 1964 film on The Beatles forms the backbone of the DVD, "The Beatles: The First U.S. Visit."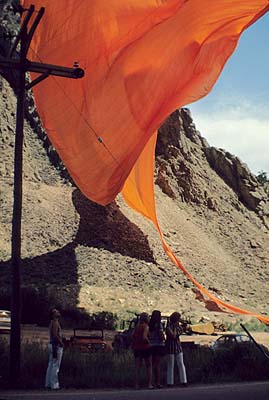 Several Maysles films document environmental art projects by artists Christo and Jeanne-Claude over a 30 year period. Maysles's "Christo's Valley Curtain" was nominated for an Academy Award for best documentary short in 2005. The project called Christo's Valley Curtain was a very long cloth which was to be stretched across a valley in the Rocky Mountains. It required 14,000 meters of cloth to be hung on four steel cables, fastened with iron bars fixed in 200 tons of concrete on each slope.
Watch "Christo's Valley Curtain"
One conclusion of Albert Maysles was that the director, cameraman and editor should be the same person. That is true in his films.
The French New Wave
Documentaries were not the only films that challenged the Hollywood style. A number of people in France and America were exploring different editing styles. In France, Jean Luc Godard and Francois Truffaut were pioneering the new styles. In America it was Andy Warhol and John Cassavetes who were discarding continuity editing and finding other styles. In France it was called the New Wave.
Jean-Luc Godard's 1960 film "Breathless" is a good example of the French New Wave. Godard's film uses many of the techniques associated with the French New Wave such as improvised dialogue, location shooting, and a loose narrative. But that's not all. Godard uses jump cuts and intentional mismatches between shots. There are many references to the history of art, music and film. He mixes high and low culture. At one moment we're seeing lewd pinups and at another classic paintings of women by Renoir and Picasso.
Godard's innovations were revolutionary. There are many fascinating reviews and analyses of this film. Roger Ebert's review in the Chicago Sun Times is highly recommended.
His review begins with the statement that "Modern movies begin here, with Jean-Luc Godard's "'Breathless'" in 1960."
As Ebert says "'Breathless' remains a living movie that retains the power to surprise and involve us after all these years…. There is a direct line through "'Breathless'" to "'Bonnie and Clyde,'" "'Badlands'" and the youth upheaval of the late 1960s. The movie was a crucial influence during Hollywood's 1967-1974 golden age. You cannot even begin to count the characters played by Al Pacino, Warren Beatty, Jack Nicholson, Sean Penn, who are directly descended from Jean-Paul Belmondo's insouciant killer Michel."
New Wave films were made on small budgets using friends for cast and crew. They might use a free shopping cart in place of an expensive dolly. Godard envisioned the film as shot like a documentary, hand-held and with little or no lighting. Much of it was improvised.
It has been said that Godard's jump cuts were a bold new direction in editing, but the reality is that these cuts were afterthoughts. The real breakthrough as Roger Ebert says is "pacing, its cool detachment, its dismissal of authority, and the way its narcissistic young heroes are obsessed with themselves and oblivious to the larger society."
This film is one that every filmmaker should rent. Don't confuse it with the 1983 remake by the same name. That film is considered a botched job. So please see the original French version first.
Unfortunately, you can no longer see "Breathless" online. But it is available for purchase or rent.