By
Doug Graham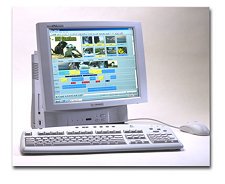 The DV Station by Canopus is a turnkey DV editing system, based on a portable PC from Mitac and the Canopus DV Raptor capture and editing card. It comes fully equipped with a good selection of both hardware and software, and is literally ready to edit "right out of the box".
Hardware Specs:
Pentium PIII 550 processor
128 MB RAM
2 GB system drive
26 GB UDMA video storage drive (about 2 hours worth of video storage)
15″ built-in LCD monitor
Built-in stereo speakers
Built-in 10/100 Ethernet connection
PCMCIA port
IR communication port
Parallel, serial, and USB ports
Logitech keyboard and two-button wheel mouse
Software Bundle:
Windows 98
Raptor Edit
Raptor Navi (auto scene detection and logging tool)
Raptor Audio (audio capture from DV source material)
Raptor Video (video capture, batch capture, and seamless (>2GB) capture)
Adobe Premiere 5.1c
Adorage (transition and effects program)
SoftXplode (transitions and effects)
Crystal Graphics 3D Impact! (3D flying logo animations)
SmartSound (music creation and editing)
All of this comes in a package that is about the same size as an iMac, and has much the same philosophy — the monitor and the PC unit are integrated into a single desktop unit. Think of this as the PC version of the iMac and iMovie.
I tested the DV Station by editing a typical event video project on it. The project was a high school graduation, and consisted of about six minutes of opening titles, lead-in shots, and interviews with students, followed by a long two-camera shot of the graduation ceremony, and closing with more shots of the students and families after the ceremony. The conclusion is a credit roll consisting of the names of the graduating seniors.
I was amazed at the speed and simplicity of the DV Station, compared to the FAST Video Machine system I normally use. A whole rack of decks, a full tower computer, a 19″ monitor and an NTSC monitor were replaced by a single desktop box and my TRV-900 camcorder. Connections have gotten a lot simpler, too. Instead of a cable for video, two for audio, and another for deck control, everything was done over the IEEE 1394 "Firewire" cable. The Raptor card does take an additional cable to enable real time hardware-supported video preview (it uses your camcorder's DV codec to provide an excellent quality preview on your computer monitor). However, this feature is not required, and I found the software-only preview to be quite acceptable for editing purposes.
The Raptor Navi utility is the logging tool with automatic scene detection. This proved very useful and quite accurate. Running through a tape at "standard" speed resulted in only two mistakes by the program — it missed one scene transition, and found a transition that wasn't there. These were quickly edited out by hand and the resulting playlist was imported into Raptor Video for capture.
Raptor Video is the built-in capture tool, but I had to do a little adjusting to make it work. You can manually capture, or batch capture a playlist, or "seamless capture" a long file that exceeds Windows's 2GB file size limit. However, you can't combine batch capture and seamless capture in the same operation, so I had to edit my long files out of the playlist and go back to do a seamless capture on them later.
Raptor Video
(for capturing)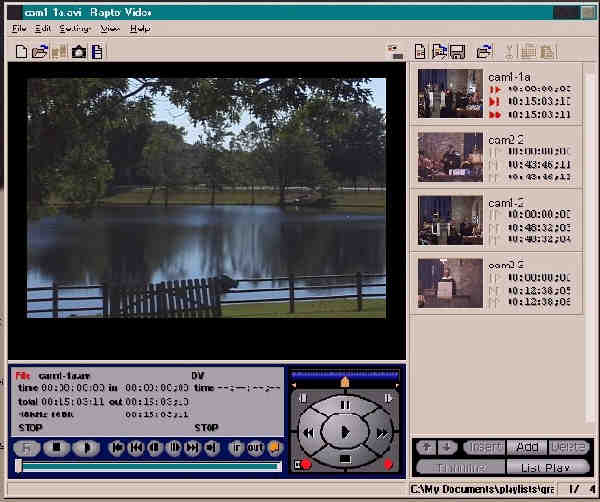 Raptor Audio (for capturing)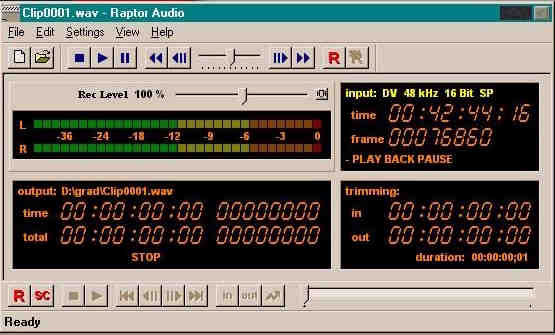 Raptor Edit