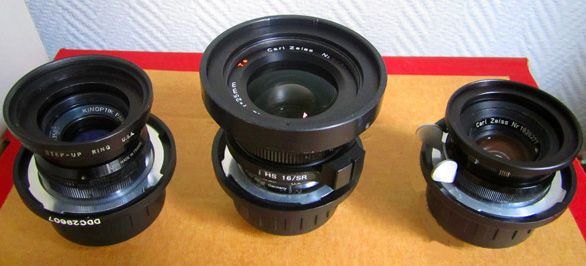 The standard lens for video cameras has nearly always been a zoom lens. They are very convenient, but zoom lenses are expensive and require a lot more light than primes. Primes are fixed focal length lenses, while zooms are variable focal length. There used to be an optical advantage with prime lenses which was why most feature films and commercials were shot with primes. But today that advantage has largely disappeared.
Vintage lenses are older lenses that had quality builds of metal rather than plastic. Compared to their modern equivalents, vintage primes costs pennies on the dollar. And they have a look that is different from today's lenses. This look can be especially artistic when applied in the right circumstance.
All modern primes are not that expensive and can be a great value. See, for instance the Canon EF 50mm f/1.8 II Camera Lens
.
Vintage primes can be found on eBay as well as in local pawn shops. You might post a "Lens Wanted" ad in Craigslist. While there aren't many camera stores left, camera stores are likely to have lots of vintage lenses for sale. There are also websites such as KEH Camera which specialize in vintage camera gear. Some of the major video dealers also sell used equipment.
Here's what Chris Watson purchased for his DSLR:
Standard Zoom: Tokina RMC (OM mount) 28mm-70mm f/2.8-4.3, $35 (shipped)
Telephoto Zoom: Vivitar Series 1 (OM mount) 70mm-210mm f/3.5, $90 (shipped)
50(ish) fast prime: Mamiya Sekor (M42 mount) 55mm f/1.4, $40 (local pickup)
Adapters: $20 x 3 = $60
Grand Total: $225
To buy the equivalent in new Canon lenses would come to over $2,700.
Modern lens technology has its advantages such as improved lens coating to reduce lens flare, image stabilization, and Automatic Focus (AF) controls. But if you can live without those, you can save a fortune and get some very interesting looks. Each lens has its own character and this is part of the art of cinematography – creating a particular look by using different tools.
In many ways the camera you use is less important than the lens. And DSLRs have finally given us a great opportunity to use a wide variety of fast prime lenses. There are many new and used prime lenses available specifically for each DSLR. In addition DSLRs allow shallow focus which is a powerful artistic tool.
Choosing The Right Lens
The most important quality is the optics. On older lenses check for scratches, nicks, dust or even fungus inside the lens. Choose a fast lens. That's a lens with a smaller f stop so you'll have better low light performance.
Adapters
Most vintage lenses will require adapters. Each lens-to-camera combination calls for a different adapter ring. An easy way to find the adapter for the lens you want is to do a keyword search on eBay. Since they are cheap, typically $10 – $30, it's convenient to get an adapter for each lens so you just have to change the lens rather than the adapter also.