For a quick and beautiful lighting set up it's hard to beat using a window as the main light source. You don't want to use a window that may have sunlight. Instead look for a northern facing window which will insure a soft lighting that's easy to work with. Using window light for video is not new. Professional photographers often prefer this natural northern light for portraits. But this kind of lighting was discovered long ago.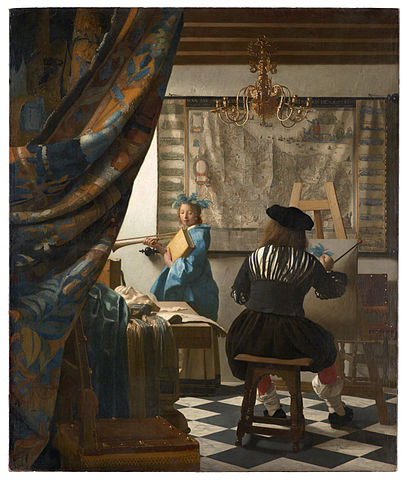 "The Art of Painting" by Vermeer
Vermeer, the master Dutch Painter, (1632 – 1675) was famous for his use of the soft light from a window. The north window was best as it never had sunlight which could introduce harsh light with deep shadows. Jan Vermeer's paintings have been called frozen films or cinematic dramas in paint and canvas.
One movie that illustrates this kind of lighting is Girl with a Pearl Earring
. This film stars Scarlett Johansson and Colin Firth. The painting by the same name is also one of Vermeer's most famous and beautiful. The film does a superb job of interpreting Vermeer's art and use of soft lighting. The cinematography by Eduardo Serra deserved an academy award. Vermeer used a trick of isolating in darkness the subject of his painting. The film does justice to that technique.
How to Use Window Light
Keep your back toward the window and keep the subject facing directly into the window or at a 45 degree angle so the light will softly illuminate the side facing the window. If necessary, a white card or reflectors can be used to fill in the shadow side. This produces a dramatic look which is fast and simple to do.
A reflector like this 5 in 1 Light Reflector
is very portable and can be used indoors and out. It can also be used to keep the sun off a subject or to bounce fill light on a person's face.
Produce Business Videos For Profit
Start part-time or full-time in this lucrative and satisfying work. Earn the respect of small businesses, corporations and non-profits who rely on your expertise. This is an amazing adventure and the best way to pay for video equipment!

Video Producer course.