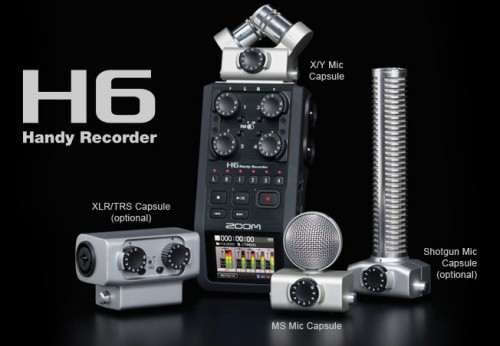 For years the Zoom H4n 4-track recorder has been the ideal audio recorder for a variety of reasons: It could augment or replace the audio recorded on DSLRs. It was a lot less expensive and hassle-prone than wireless mics. Instead of mixing different live sources, it was simpler just to use several H4ns. You could record as many tracks as you wanted.
What separates the Zoom H6 from others is that it can record 6 channels simultaneously. The H6 has 4 XLR inputs, a shotgun capsule and an XLR/TRS input. It also has interchangeable input capsules that attach to the device almost like changing a lens. You can use a wide variety of external mics. It is housed in a rubberized case. The backlit color LCD screen is tilted down a bit making it easy to hold and view. Navigating the screen is simple. There are two main controls, a joystick, and a menu button.

The Company Video
There's a very handy pre-record function which can save your butt. When it's enabled, the H6 is continually recording a 2-second buffer. That means if you are late in hitting record, the two seconds prior are recorded. There's also a backup-record feature which creates duplicate tracks from the L/R inputs. These are recorded at 12 db lower to give you a safe back-up. The recording media can be SD, SDHC, or SDXC cards up to 128 GB. The H6 records in a variety of formats including 24 bit/96K. Included are newly designed pre-amps with a low noise floor. It even has a built-in speaker.
The Zoom H6 can be attached to a camera strap or mounted directly to a DSLR. Line-out allows you to send audio to your camcorder while monitoring through headphones. There's also a USB port which can serve as an audio interface for a laptop or tablet. The device takes 4 AA batteries and will run for 20 continual hours.