*Expected availability: August 30 2012, Lens not included.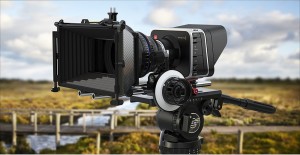 At the 2012 NAB Show, the Blackmagic Design company announced the Blackmagic Cinema Camera, featuring interchangeable EF mount lenses. The 2.5K sensor allows enough oversampling for clean 1080p or 2K output. The sensor also offers a dynamic range of 13 stops! It captures to conventional PC 2.5″ SSD drives. (5 hours of video fits on a single 480GB SSD.) Record uncompressed RAW DNG, Apple ProRes or Avid DNxHD lossy formats. Most functions are available through the touchscreen display. The camera allows easy metadata entry. These features are remarkable because of the low price of this camera. You get a feature film look for the cost of a DV camera. Summary of specs:
2.5K Image Sensor
Captures 12-bit RAW, ProRes and DNxHD Formats
13 Stops of Dynamic Range
Frame Rates 23.98, 24, 25, 29.97, 30p
EF and ZE Lens Mount
LCD Touchscreen with Metadata Entry
SDI Video Output and Thunderbolt Port
Mic/Line Audio Inputs
Records to Removable SSD Drives (240GB is about $200)
Includes DaVinci Resolve and UltraScope
Uses standard connections for audio, batteries, headphones, Lanc remote control, and high speed Thunderbolt port for Apple computer capture.
Having thirteen stops of dynamic ranges means the detail in both shadows and highlights is preserved. So indoor shots that include a window can now be used with proper exposure for both the indoor subject and the exterior through the window. The RAW image can be color graded with the included DaVinci color grading software.
Entering Metadata is done through the LCD touchscreen. It displays a slate where you can enter shot number, search tags, scene number, time code and more. The shot number and other data can be set to increment automatically. Metadata speeds up the entire process of editing and keeps it much better organized.
DaVinci Resolve
DaVinci's color correctors have been a standard for Hollywood color correction since the 1980s. The DaVinci company was acquired by Black Magic Design in 2009. DaVinci Resolve is normally $1500, but with the Cinema Camera, it is included free.
The Digital Bolex camera has many comparisons to the Blackmagic Cinema Camera. The Digital Bolex is also a 2K RAW Digital Cinema camera for $3K. And it is also slated to be available August, 2012. Which camera is first may not be the most important factor as those who recall the BetaMax/VHS wars of decades past.
This is the beginning of an entirely new generation of amazing video cameras. You that Sony, Panasonic, Canon and JVC will be working on competing cameras as well. But with these two cameras in our immediate future, one must ask if the DSLR is endangered?