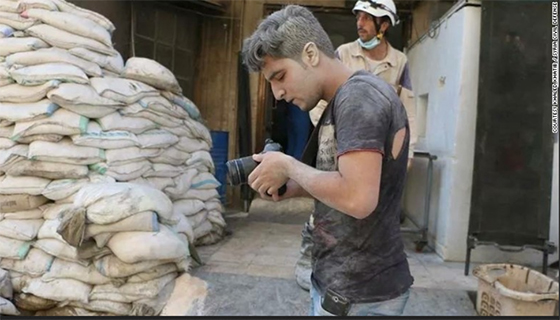 Khaled Khatib working on the Oscar-winning documentary short "The White Helmets."
"The White Helmets" tells the story of a group of civilian volunteers in Aleppo who search for and rescue bombing victims. The White Helmets often claw out the rubble with their bare hands. They have saved over 78,000 people who were buried from the constant bombing. Much of this was filmed by a teenage photographer Khaled Khatib who is also a White Helmet volunteer. The White Helmets are a trained force of 3,000 rescue workers. As CBS's Scott Pelley says, they offer Syrian civilians their only hope.
In one scene they are listening for the faint cries of a newborn baby who was trapped under a collapsed three-story building for over 16 hours. When they finally pull him out, a loud cheer goes up. The baby is dehydrated but otherwise unharmed, without a scratch. They call him the "miracle baby." The bombing by Syrian government and Russian planes did not let up.
This documentary is directed by Orlando von Einsiedel who is from the UK. As he says "One of the great things about documentary is its ability to create empathy. And, you know, there's so much misunderstanding particularly at this moment about Muslims and people from places like Syria. We hope our film helps create bridges." According to the White Helmet website 154 White Helmets have been killed saving lives.
The White Helmets Official Trailer
The film is distributed by Netflix. It is their first Academy Award winner and is on Netflix now. "If we win this award, it will show people across Syria that people around the world support them," Khatib told CNN before the awards. "It will give courage to every volunteer who wakes up every morning to run towards bombs."
The White Helmets said Khatib couldn't attend the Oscars "due to his passport being canceled by the Syrian regime, despite having been issued a US visa specifically to attend the awards ceremony." The Syrian government had no comment on the claims.
When Khatib was asked what he'd like to do in the future, he said he wants to finish his education which has been interrupted by the war. "I wish this war would stop tomorrow," he said. "We want to rebuild Syria, rebuild the stores, hospitals, the markets and the universities. We want to liberate Syria and let the refugees return to the country."