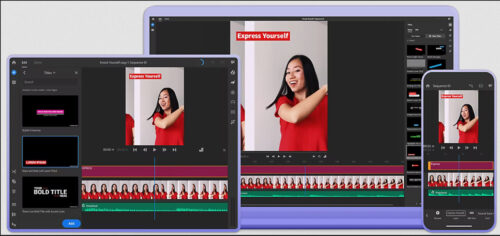 Adobe Rush is cross platform including phones, Mac and PC desktops. Like any good editing program Rush allows multiple video layers. It supports a wide variety of file types and cameras. Adobe Rush can make titles and animated titles. Rush includes all the important stuff of a video editing program. To demonstrate the cross platform aspect, you could start the edit on your phone. Everything gets backed up to the Adobe Cloud, then you can open it up on your Mac or PC. All of your timelines and footage is there. Then you could save it out to either of those devices, make changes on either of them and it is updated across all of them. Nothing else comes close to editing cross platform like this.
Another big feature is the ability to reformat videos. You might start your video as a wide screen video then re-purpose it over to a square video or create multiple versions.
Editing is simple and intuitive. Click and drag. You can drop in 4K footage and Go Pro footage with different frame rates and it doesn't blink. You can also transfer Adobe Rush projects into Adobe Premiere if you have a Premiere license. You can export into just about any format as well as YouTube, Facebook, and Instagram. The exports are surprisingly fast. There is a free version which allows unlimited exports, easy edits, customize animated titles, and soundtracks from the free library. However, the free version does not allow you to sync video projects across mobile and desktop. The version that does is $9.99/month. Adobe Rush Page.