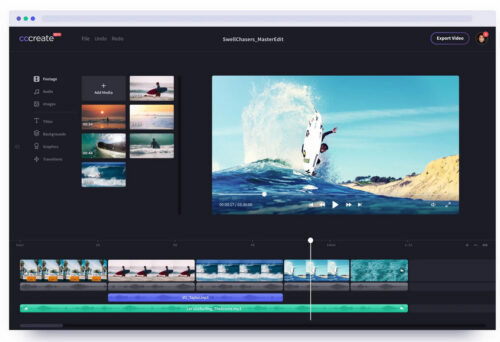 Windows Movie Maker returns. Not really, but Microsoft did acquire an editing program called Clipchamp and they now include it with Windows 11. Clipchamp has a timeline just like Adobe Premier and all the others. This is a browser-based app. It can do trimming, splitting, and transitions. It even includes a screen recorder. Clipchamp has a library of filters, transitions, and stock media. It also features multi-track audio.
It connects to Microsoft'S One Drive for storage and includes text-to-speech generator so users can create voiceovers in 70 languages. Clipchamp is pre-installed on Windows 11 devices. To use it you will need to log onto your Microsoft account. It allows you to bring in videos from many platforms including Dropbox, One Drive, Zoom, as well as videos from your phone. There is a sound effects and music library as well as a stock footage library, but not all of it is free. Likewise, the export option is only free for 480p (standard definition). To export 720p or 1080p you need to pay a monthly fee. Windows Movie Maker had 1080p at no extra cost.
You can download it at https://clipchamp.com. The bottom line is that for the cost this is not a good buy.
I would look for an older version of Sony Vegas Movie Studio. The Sony Pro version costs more, but may not be necessary since Movie Studio is so powerful. Movie Studio can only edit with ten video tracks and ten audio tracks. Have you ever needed more than ten tracks? Surprisingly Movie Studio features many more effects and transitions than the full version of Vegas does. If you can only find it on a disc, you may need to buy a portable DVD drive for $15 or so.
Or look for DaVinci Resolve which is nearly feature complete in its free version. You would only need the paid version of Resolve if you need to master and export DCI 4K, or higher resolutions. This, even today, is not that common, and only high end productions and big budget movies do it. But you can still import, edit, and grade media in higher resolutions (4K, 6K, 8K). Those higher resolutions will be scaled down to the target project resolution (lower), which is anyway what we normally do.
Of course there are many more video editing apps to choose from. But the most important thing is to edit your videos and make films. Whatever program helps you do that is the right choice.