DVD and CD Duplication
* We use professional duplication equipment to assure high quality video.
* We provide an Amaray (Disney type) DVD/CD case. The white case has a clear cover so you can insert your own cover or use ours.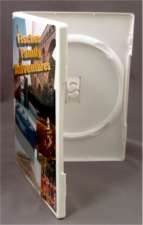 This Amaray DVD case has an external clear sleeve for a graphic insert.
Transfer your valuable films to DVD.
We can also transfer your videos to DVD or other digital media.
Call today. (401) 253-2800
HOURS:
Monday – Friday 9:00am to 6:00pm