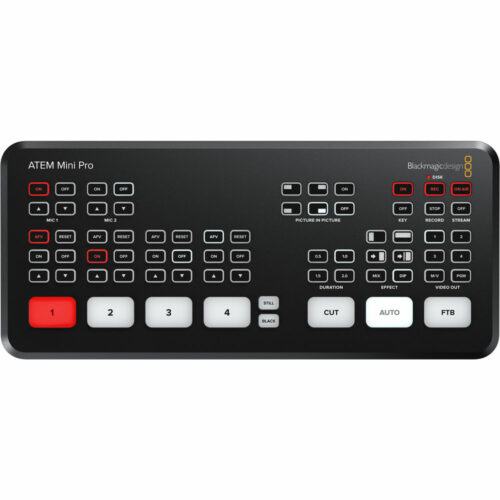 This Blackmagic Switcher has cut the price $100 which is 17%.
HDMI Video Inputs – 4 x HDMI type A, 10-bit HD switchable. 2 channel embedded audio.
Total Audio Inputs – 2 x 3.5mm stereo mini jack.
Direct recording to USB flash disks in H.264
Direct streaming via Ethernet to YouTube Live and more
Similar to the earlier ATEM Mini, the ATEM Mini Pro from Blackmagic Design is a four-input live production switcher. It has an integrated control panel for multicamera live streaming up to HD video intended for the internet, gaming consoles, corporate computer streams, or HD cameras.
It also has an HDMI output for a projector or multiview monitoring, a USB Type-C output as for recording HD video to a computer, and an RJ45 10/100/1000 Ethernet port for direct live streaming as well as system management and remote control. There is no need for additional streaming software because the includes a built-in hardware encoder. You can monitor the data rate, audio meters, configuration, and status of your live feed. The built-in color control panel has the same configuration of DaVinci Resolve. One of the advanced features is the capability for engineers to upload an XML configuration file. This allows the operator to change all the settings at once.
The available transitions include cut, dissolve, dip such as dip to black or white, wipe, Digital Video Effects. The Blackmagic Switcher ATEM Mini Pro has an upstream keyer so you can layer live video over other video sources or graphics. Use luma key, linear key, pattern key, or shoot against a green screen and use chroma key to instantly composite the video over virtual sets. It also has a downstream keyer so overlay bugs, logos and titles.
The built-in audio mixer lets you control both camera and external audio on six audio inputs and two channels. I was surprised to learn that mixer has 2 1/8″ miniplug audio input connectors, however it does have embedded HDMI audio inputs 2-Channel (per Input).
Compatible with Windows 10 or macOS 10.14 or later. It has a very small footprint 9.35 x 4.07 x 1.38 inches.
This Blackmagic Switcher is used in churches, sports, webcasting, online classes, zoom meetings. Easy to user, powerful and compact. Available on Amazon. See the user reviews.
…