Good morning, –
If you know me personally, you know that I love sailing my vintage Pearson Triton Yawl, "Satin Doll." It's my first choice when I just want to kick back and relax.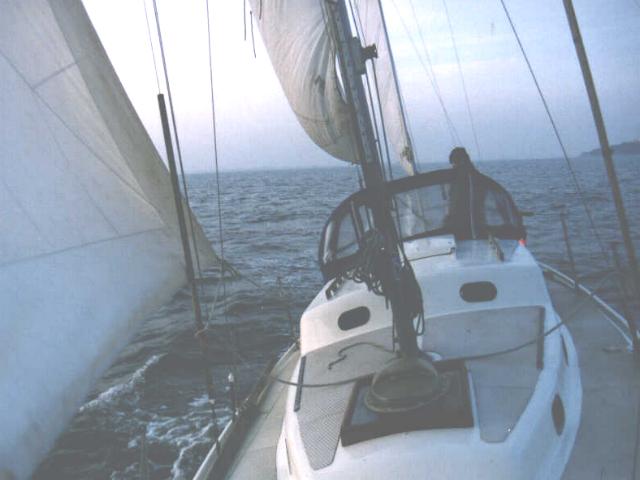 Sailing is something I've done for quite some time. Even so, I make sure I have a plan before heading out into the horizon. I've checked the weather, laid out my course, made certain the right navigational charts are onboard, and double-checked the GPS, just to name a few. I may make stops along the shoreline, but I do my best to not veer off-course. I generally have a destination in mind -and a plan to get there.
You need a plan.
It's the same with your video production business; you need to know where you want to go and then map out the best way to get there. The Small Business Association says that a business plan "should be a work in progress" and that even successful business owners "should maintain a current business plan to ensure they remain knowledgeable on the elements that can affect continued success." The way I see it, every video production business starts with an idea.
And no matter what that idea is, a well thought out business plan is what helps turn that idea into a reality. I think of it as a script for success.
Setting goals and objectives.
Having clear and well-written business goals gives you seven immediate benefits:
Organize your objectives;
Help you determine your strategies to accomplish those objectives;
Guide you in setting your priorities;
Help you develop your schedules and timetables;
Clarify activities and help you delegate responsibilities;
Help you anticipate problems and create solutions; and
Make you set your financial guidelines and goals.
Ask yourself these questions.
Does your business work the way you want it to?
When you take a close look at your business, is it EXACTLY

how you want it to be?

Are your employees (if you have any) the people you REALLY want?
Are your productions, your results, your clients, and your suppliers

working EXACTLY as you wish them to?

Do you get the results you want? Or are the results what everyone

else (your staff, your customers, and your suppliers) wants from your

business?
A business plan can help take you from where you are now to where you want to be.
The Video Production Business Plan -now available at VideoUniversity!
The Video Production Business Plan is a complete and comprehensive business plan developed by a videographer. It includes a bank evaluation form (the form used to determine whether or not you get a loan), numerous spread sheets, pricing strategies, executive summary, mission statement, advertising, forecasts, and more all in a 57-page book/CD-Rom package. You can learn more here.
Far less than you might think.
At only $39.95 for the electronic version (available via download) or $49.95 for the printed book and CD, it costs far less than a custom plan, a template, or some "easy-to-use business plan software" that will only leave you scratching your head. The Video Production Business plan lets you plug in your own personal and area data. It'll just take a couple of hours and you'll have a very valuable tool to help build your profits and the future of your business! And, just as with all of our products, it comes with a 90-day money back guarantee.
How would you like to feel when you think about your business?
How would you like your customers to feel about your product or service?
Remember that a business plan is nothing more than a list of things that need to be done to take you from where you are now…to where you would like to be!
To get yourself started just sail on over to
http://www.videouniversity.com/shop/video-business-plan
Don't forget -it's YOUR business.
Diversify For Profit!
Are you taking advantage of every income stream available to you? We'll show you how to build additional profits by transferring photos, home movies, VHS tape and slides to DVDs. And then we'll show you how to duplicate the results for even more income. These simple transfer jobs can often lead to bigger projects -corporate videos or video biographies -worth thousands. More info right here.
Need Help Selling and Marketing to Businesses?
Corporations, small businesses and non-profits make up a vast and interesting market for your services. Our Professional Video Producer Home Study Course reveals the right way to start and build a lucrative and creative corporate production business. Read all about it!
Join The VideoUniversity Forums
For over 10 years, our forums have helped producers launch profitable video businesses. Why reinvent the wheel when others have already been there and done that. And what a community of smart, helpful and funny experts this is! Many people tell us they've picked up more jobs through the VideoUniversity Forums than through their own local video associations! Not bad for just $25 a year. Try our popular VU forums for a week. If you don't agree it's the best $25 you could ever spend to help your business, I'll give you your money back. Join here.
To your success,
Hal Landen
Questions? Call me at 401 253 2800
Helping Producers Prosper For Over 14 Years