Miniature, Hackable Quadcopter
Now Available As Pre-Order
This one is very maneuverable so you don't need the skills of a fighter pilot, and it is not nearly as dangerous as the larger quads. Open source software makes it friendly for developers. One developer has added a keychain camera to it. It has "training wheels' which protect the blades while you are learning. Inductive charging so you don't have it plug it in. Computer vision control and lots more. The kit requires soldering skills and is not for beginners. $149 – $173 More Information
A Lot Cheaper Than Hiring A Full-Sized Helicopter. Or Is It?
Colorado based team called SkySight is a small band of producers who hand build each craft together, work on every shoot together, and share adventures and travel when we're not working. Their backgrounds are in aerospace, optical engineering, aviation, technical rescue, and adventure guiding.
Is it an art film or a documentary?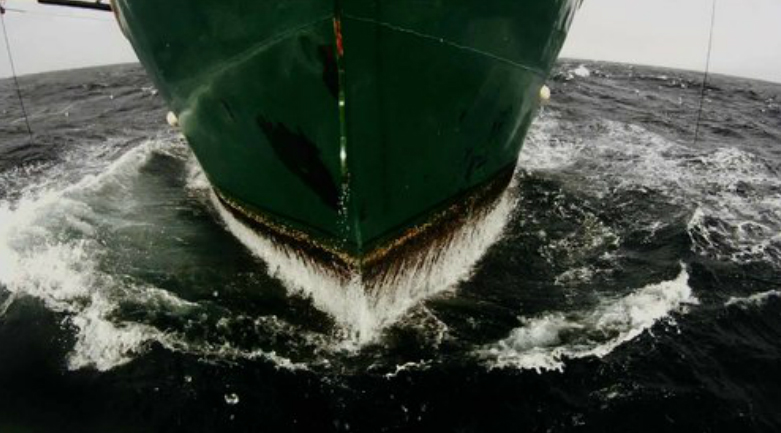 Véréna Paravel and Lucien Castaing-Taylor talk about their new film "Leviathan," a documentary about commercial fishing without interviews, voice-over, narrative or a traditional point of view.
See the trailer with director interview here.
The documentary film today is a mostly informational. It's about causes or personalities. The art film has no plot or narrative, no dialogue. The ethnographic film is used by anthropologists investigating the cultures of other peoples. It is a more formal film devoted to analyzing data and advancing arguments.
Lucien Castaing-Taylor is both a filmmaker and anthropologist who teaches at the at Harvard at the Sensory Ethnography Lab. Students and faculty at this lab have been been responsible for some of the most daring and significant documentaries in recent years. For a more in depth discussion see The Merger of Academia and Art House in the New York Times.
This is an interesting type of film because it has no narration, interviews or even dialogue or plot. Is this a valid film? Is it an art film? Do we have to know what it is? Perhaps it all depends upon whether the audience thinks it is a worthy film. What do you think? Please make your comments below. It's not yet available in Netflix, but it is coming.
The Wonderful Change Order Form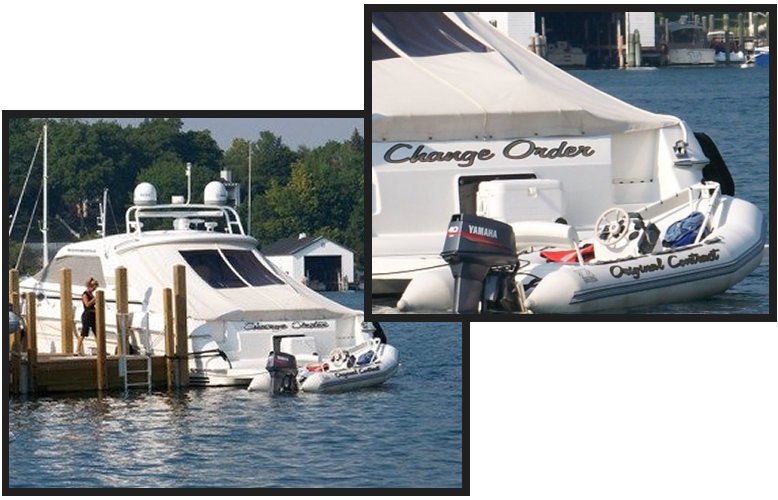 The Change Order as Money Machine
If you look closely at the names of those two boats, you'll get the concept that has put many kids through college. The big boat is named Change Order. The small dinghy is named Original Contract. It's a concept I first observed in the construction business. The client wants to change some part of the project from what was specified in the original contract agreement. It may be something like adding a window or moving a door or something even more trivial. These changes generally take more work and that costs money. To make the change, the client must agree to a new contract or change order with new prices and terms.
The concept works in video too as well as in many other fields. But you have to make it part of the deal from the start. It must be prominently placed in the contract. Point it out to your prospective client. Explain it. Invite discussion. Make it an integral part of every contract you offer. It will make your business more profitable and remove those uncomfortable feelings that can come from the grey areas inherent in every artistic business. Clearly spell it out in writing.
I learned this the hard way, but when I figured it out, it changed my business in a good way. I wrote a report about this just for video producers. The strategy is fully explained. The report includes several video production contracts you can use. You'll see exactly how to use them in your video productions.
Produce a 15 Second Psycho-Type Opening and Win $2,500 (maybe)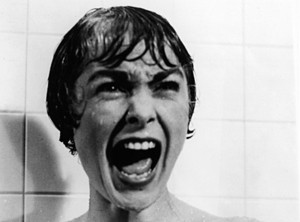 The classic Hitchcock film Psycho (1960) [DVD + Digital]
has spawned many imitators and set a high benchmark for scary films. The shower scene pictured above is an icon in the film universe, like Marilyn Monroe's wind-blown dress .
The A&E Network invites filmmakers to enter a Facebook contest to create the best 15-second opening title sequence for their new cable series called "Bates Motel." It's a contemporary prequel to "Psycho which offers "a contemporary exploration of the formative years of Norman Bates" as well as "his relationship with his mother, Norma, and the world they inhabit," according to A&E's news release.
It's not enough money for what they're asking. This is gonna take more than a couple hours. But it is a fun project to contemplate. If you do it as a piece for your reel, it may make sense to take a stab at the contest. Unfortunately, I don't make any money on this whether you enter or not so do what fits. Here's the link http://www.facebook.com/BatesMotelAETV . And here's a NY Times article about it.
Produce A Superbowl Doritos Ad and Win $1,000,000
Can you produce a very funny, action-packed or just awesome 30-second spot in the next couple weeks? If so, you could win a million bucks. But don't delay. The deadline is one second before noon CT, Nov. 16, 2012. Your ad must be exactly 30 seconds and not use any copyrighted material or have been published elsewhere. Read the complete rules here. To enter, you must go to the official page on Facebook Click on the DORITOS Crash the Super Bowl Application. Agree to and allow the app. You're allowed a total of ten submissions. There are prizes for $1,000,000, $600,000, $400,000 and five $25,000. The winner will also get to work with Michael Bay who directed Transformers.
Canon 6D is Full Frame With GPS and Wi-Fi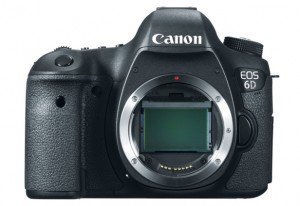 On the heels of Nikon's recently announced
D600
which will be available September 18 $2,096.95 body only with full-frame 24MP D600, comes Canon's reply: the 6D.
The Canon 6D is also a full-frame SLR. It adds Wi-Fi and GPS. "EOS Remote" is an app available for Apple or Android smartphones. With it and built-in Wi-Fi, you can quickly check still images in your camera with your smartphone. You can also transfer them to a computer, the Internet or a smart phone, but unfortunately you cannot transfer Mov movie files via Wi-Fi. The GPS unit can embed location data into every still image. It includes a logging function that can keep track of where you've been through the day. Travel, news or legal photographers will probably find this feature useful.
The specs on the Canon 6D are very similar to the Canon the 5D. The 6D has a new autofocus system that is better that the 5D's and looks to be more sensitive in low light. They've moved a few things around on the body. The white balance and flash compensation are no longer on the top. They are now accessible in the Quick Control screen.
The new Canon CMOS sensor is 20.2mp, 14-bit. Sensitivity is 100 – ISO 25600/102,400 (expanded). Unlike the other Canon DSLRs, the viewfinder only covers 97%. The video is H.264 QuickTime MOV, 1080/30p/ 25p/24p; 720/60p/50p. At 3.0 inches, the LCD is a hair smaller than than the 5D.
Apps allow you to control the camera direct from your smartphone. This could be helpful when filming in dangerous situations or perhaps with time lapse. Is the next step a DSLR with built-in smartphone?
Because the layout is a bit different from other Canon DSLRs this one is unlikely to be chosen as a second camera for video shooters.
The Canon 6D is $2,100, available in December 2012.
Black Magic Cinema Camera – First Look
One of the first to receive a shipped camera is Rick Young. In this video, he shoots and explains the features as he goes.As he says, you can use just about any lens with the right adapter, but the Canon EF glass works right away, including auto focus and auto iris. Rick also explains how to easily work with the crop factor.
By taking us through the menus, he shows how easy the camera is work with. Not only is it simple, but there's a nice big hi-res built-in monitor to work with. None of the menus have too many layers like many other cameras.
Rick is shooting and demonstrating the camera without reading the manual. That's a good sign.
One thing Rick didn't address is whether you can handhold this camera. Hand-holding a camera is not something I recommend you do often, but sometimes it's the only way to get the shot. I did see on the B&H site there's a hand-holding rig available, but it keeps all the weight out front.
I know that no has said this was a documentary camera. It's always been touted as ideal for low budget features and commercials. I can imagine a rig that has weights and keeps the weight of the entire unit more on your shoulder rather than out in front where your arms will tire sooner. Since there's no view finder, you couldn't put your eye up against the monitor. So maybe you shouldn't even think of it as a possible doc camera. What do you think?
Ansel Adams Glass Negatives Found in Garage Sale for $45 Worth $200 Million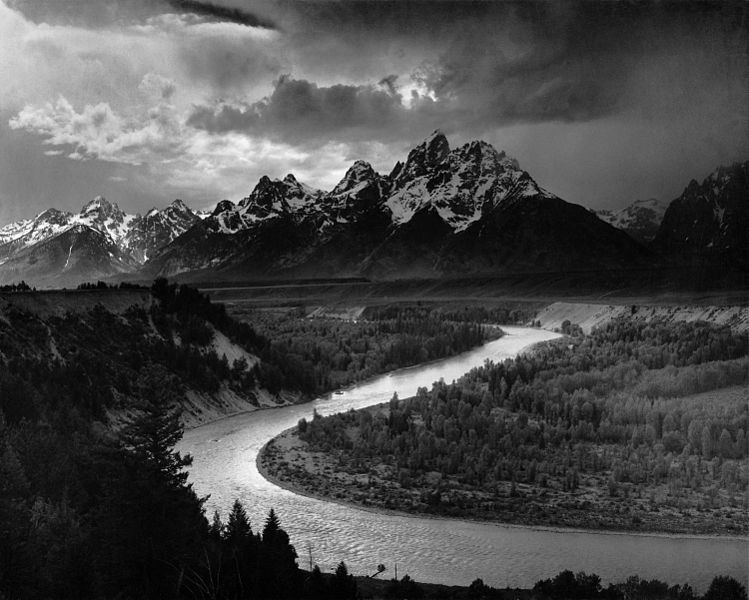 Click to enlarge.
This is not one of the Lost Negatives. This photo was taken while Adams was employed by the US Government.
Rick Norsigian bought two boxes of old photographs at a garage sale in Fresno CA for $45. He didn't even look at them for several years, but when he did, he discovered what has since been authenticated as original Ansel Adams glass plates. See for yourself.
The Wal-Martization of Video Production
There are a number of companies that purport to "produce" very low-cost business videos by using inexperienced producers who audition their talents on the Internet and only deal with the business client after a contract has been made. Some of those companies include:
http://www.studionow.com
http://www.turnhere.com/
http://www.geobeats.com/
http://www.lightswitch.com/
Not surprisingly, the videos are pretty lightweight. GeoBeats videos seem to be made entirely of still photos edited into videos with stock music and weak narration. Some are better than others, but it's obvious that these types of videos are produced very quickly and by-the-numbers.
For a couple hundred dollars, it's an easy sell to businesses. They may be thinking they are ahead of the game, but I like to look at the number of views a video has had. If only 50 people have seen it in six months, it's pretty much worthless. And that kind of number is not uncommon in these cheapie videos.
At least they are not (yet) trying to outsource the production to China. These videos are shot at the business owner's location so they require a local videographer. Young and inexperienced videographers get experience from this work and very small paychecks, but this makes it harder for real production companies to compete. That's how business works many will say.
Wal-Mart does have positives: Great efficiency in buying and low prices, more choices for the consumer, employment for poor people who want to work. But don't forget the negatives. Many Mom & Pop stores are forced out of business. Wal-Mart wages and benefits are very low. No one knows your name when you walk into the store. The charm and sense of community of small-town businesses is lost. Economists says that overall Wal-Mart helps the national economy, but I'm not sure it's worth the cost. Wal-Mart is one of the largest private employers in the world.
What's your opinion of this type of video production company?
Older Posts »
Oak Tree Press | 875 State Road Unit 11 #143 | Westport, MA 02790 | Voice: (401) 253 2800 | Fax: (401) 396-9132

© 1997 - 2013 Oak Tree Press. All rights reserved.