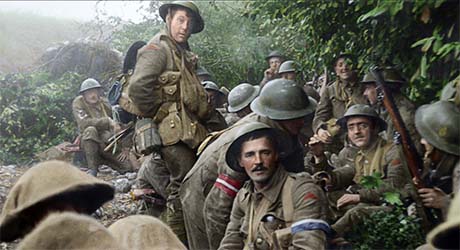 They Shall Not Grow Old, a 2018 film, tells the story of British troops in the First World War. It uses documentary footage of the soldiers as they faced the frontline battle in Belgium. They Shall Not Grow Old is not so much facts about the battle as of the human stories of the men in the trenches. The film is amazing but equally good is the "Making of" film that explains the technical aspects that make the real live characters seemed like it was filmed yesterday. One of the technical challenges was the speeds of the original films, some of which had been filmed at 2 fps some 18 fps. One technique the director used was to change the speed to extreme slow motion which adds great poignancy.
Many of the 100 year old prints had become either overexposed or under exposed. At first glance many of these shots looked to be unusable, but the technicians could restore them. The black and white footage was also colorized which in many cases turns out to be a bad idea. But in this case colorizing was a natural choice because of the subject. The coloring is so well done, it's very hard to tell it was not original colors. The filmmakers went to great length to be accurate with the colors.
Dialogue and Sound Effects
This footage was all silent so dialogue and sound effects were created. The crew found 600 hours of BBC interviews with British soldiers who were there and spoke of their experiences of the battle of Belgium. Some of the dialogue was from WWI documents which was recorded and woven into a seamless story. They recorded British voices and in many cases lip-synched it to the silent footage. There is no traditional narration, but only audio excerpts of the soldiers talking about their war memories. It would have been very easy to simply buy the sound effects, but even the sounds of the big guns were recorded by using the actual big guns.
They Shall Not Grow Old is a powerful testament to those Brits who fought a terrible battle. The technical achievements are amazing. So if you decide to see this film, be sure it includes the "Making of" documentary that was on the DVD. As Director Peter Jackson said at the opening of the film, "This is not a story of the First World War, it is not a historical story, it may not even be entirely accurate but it's the memories of the men who fought – they're just giving their impressions of what it was like to be a soldier." They Shall Not Grow Old holds an approval rating of 99% from Rotten Tomatoes. See the official trailer.
I found the disk on Netflix and it is also available for rent or sale on Amazon.