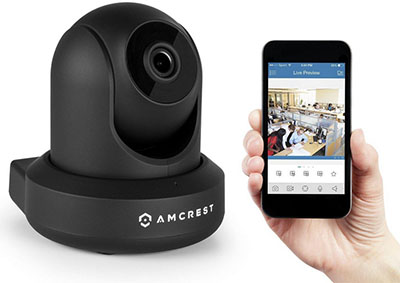 Security cameras have come a long way. The Amcrest ProHD security camera has features that could be very useful to a video producer. While you certainly would not produce a business video entirely with a 1080p security camera such as this, there are a great many things it could do cheaper than a GoPro. And for the price, it's a pretty remarkable camera.
It shoots full HD 1080P video at 30fps. It will record to a 64 GB mini SD card. This is enough to handle up to two weeks of continuous 24hr recording. If you set it to just record motion, it will record at least a month of just motion. You can also record to an FTP server, a network access server, or your own local computer.
Cloud Recording
This 1080p security camera includes 4 hours of free continuous cloud recording. This means the last 4 hours of clock time, not recording time. You can just keep using the 4 hour recording time if you don't want to subscribe to a 7-day, 15-day, or 30-day storage plan. You could also link it to your own cloud account on Amazon S3 or another service for pennies. But cloud recording is completely optional. You could just do live streaming, and/or record to an SD card or another computer. A lot of options for an inexpensive 1080p security camera.
Motion Alerts
The camera can be set to record motion so if your cat walks into the room, that will be recorded. The camera can also send you an e-mail that there is motion and include an attached image of that motion inside the email. How cool is that? But if that cat started chasing a ball in and out of the room, you'd have a whole lot of emails, but at least it would all be documented!
Wi-Fi, Live Streaming, 2 Way Talk
It has WiFi via iPhone or an Android smartphone using the included Amcrest View App. This can stream video and two way audio directly to a smartphone, tablet, Apple or Windows PC. The camera can also connect directly to your network with an Ethernet cable. This would require a DHCP server or Dynamic Host Configuration Protocol which is normally provided by your router or a managed Ethernet switch. This gives you an IP address on your network. With that you can access the camera's setup page and configure it to use a static IP address if you wish.
The camera lens has a 90 degree viewing angle, remote pan/tilt, Intelligent Digital Zoom, and IR LED Night Vision Up to 32 feet.
Built in speaker and mic which provides two- way talk so you can listen and talk to anyone in the room. The audio quality is not bad, although you wouldn't record music with it.
Includes mobile and web apps (Safari, Firefox, IE Supported – Chrome Supported on Amcrest Cloud).
This 1080p security camera features Sony image sensor and Ambarella processor.
1080p Security Camera and the Law
Video surveillance laws vary from state to state. There are no Federal laws that prohibit hidden video surveillance also known as Closed Circuit TV (CCTV) in public or in the workplace. Most states do not prohibit it either, but some do. Learn about these legal issues before you install a security camera. Read Video Surveillance Laws.