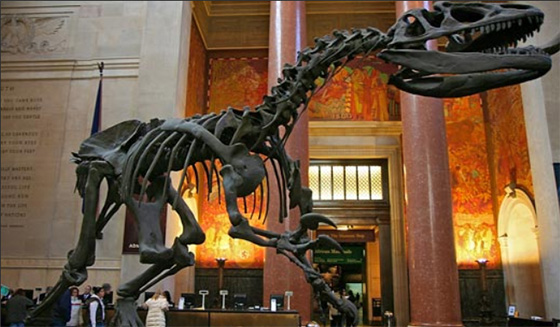 This 360 degree video below from American Museum of Natural History is called "Fossil Hunting in the Gobi." It portrays 1920s fossil-hunting expeditions to the Gobi Desert with a legendary paleontologist, and then segues to the Museum's modern-day collections.
The 360 degree video on YouTube can be watched in three different ways. 1. On Your Phone 2. On Your Computer 3. On Your VR Headset such as Google Cardboard. On the first two, you can use your finger or mouse to move the view.
This video is the first of the American Museum of Natural History's new series Shelf Life which uses 360 degree video to tell stories of expeditions. It was produced by Erin Chapman who works in the communications department of the museum.
The museum has one of the largest collections with over 33 million specimens. But less than a million of them are on display. Virtual Reality is an ideal tool to explore the unseen collection. "Fossil Hunting in the Gobi" tells the story of celebrated paleontologist Roy Chapman Andrews who discovered numerous dinosaur and early mammal fossils the 1920s in the Gobi Dessert. In fact the character Indiana Jones from Raiders of the Lost Ark is drawn from the life of Roy Chapman Andrews.
These expeditions yielded the mother lode of fossil discoveries and they were very well documented. There are so many photos, film clips and panoramas of the expedition that there's no real way to show them to the public. VR video is ideal because it can use all of these elements to tell the story.
Another area that is ripe for Virtual Reality is architecture. The major architecture firm NBBJ is actually developing its own platform VR and this is the first in the world. It is designed to make it easier to collaborate with clients, engineers and designers. Some projects involve dozens of people who must see the plans. As one designer says "Clients don't want to be emailed a PDF of design options—they want to be immersed."
360 Degree Video Is Growing Quickly
The New York Times offers a new 360 degree video every day from journalists around the world. They call it The Daily 360. YouTube has its own VR channel.