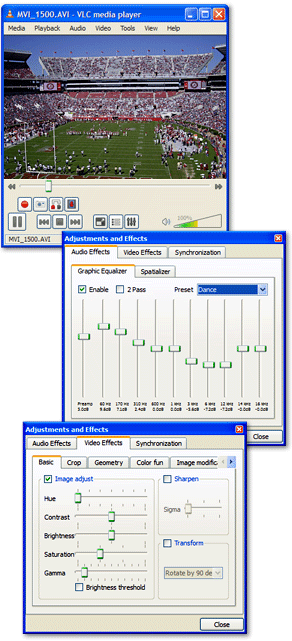 When you're dealing with lots of video files, you may not want to watch a video clip in your Non-Linear-Edit Program. You want to just click on the video and quickly watch it without a big production. Windows Media Player or Apple Quick Time simply won't play all the codecs and that's a pain. I discovered a free program called VLC Media Player that makes my life a lot easier.
It's open source, unlike the other two major Media Players. It runs on all platforms: Windows, Linux, Mac OS X, Unix, iOS, and Android. It has no spyware, ads and no user tracking. Support and documentation appear to be thorough, although I have not needed it.
Video formats it will play:
MPEG
WMV
Quicktime (MOV)
DIVX
Real Video
MJPEG
Cinepak, Dirac /VC – 2
DV
H.261
H.263
H.264
HuffYUV
Indeo 3/4/5
Theora
And the list of audio formats is even longer.
GP
AAC
ADPCM
AIFF
ALAC
ASF
ATRAC 3
AVI
Dolby Digital
DTS
FLAC
FLV
LPM
MIDI
MKV
MP3
MP4
MPEG
Musepack / MPC, MXF
Ogg
OGM
QCELP
QuickTime (MOV)
Raw audio
Raw DV
Real Audio
Speex
TrueAudio (TTA)
TrueHD
VOB
Vorbis
WAV
WMA.
I've never heard of some of those codecs, but I know Windows Media Player and Apple Quick Time cannot play many of them. With VLC there's nothing else to download and no hassle. I've made VLC my default Media Player and what a relief that is. Their large library of codec formats, include the high-definition formats like Blu-Ray and HD-DVD. VLC Media Player can also do frame-by-frame playback. And it works on live and streaming video. I think you'll be pleasantly surprised.