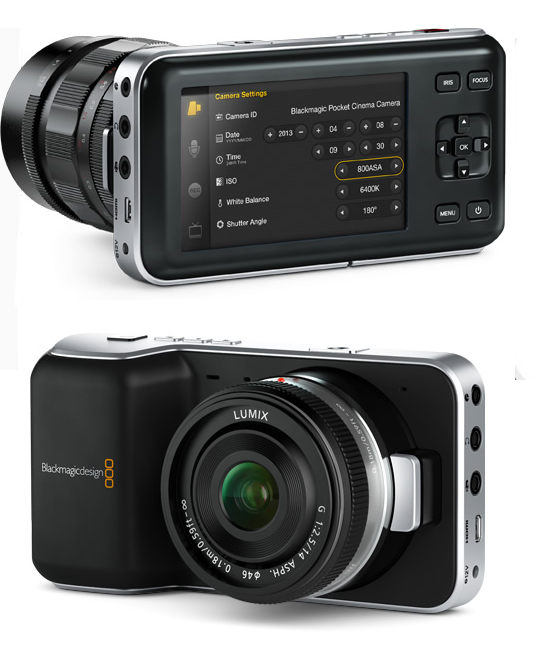 Although small and "consumer like" in physical appearance, this is not a consumer camera. It captures more information than camcorders or DSLRs.
Here's what it's got:
Super 16mm Sized Image Sensor
Active Micro Four Thirds Lens Mount
13 Stops of Dynamic Range
Records Full HD 1920×1080 CinemaDNG RAW
Apple ProRes 422 (HQ) at 220 Mbps
Portable Design (5″ Long and 12.5 oz)
3.5″ LCD Display with 800×480 Resolution
Uses SDXC and SDHC Memory Cards
EN-EL20 Compatible Rechargeable Battery
HDMI, LANC, 3.5mm Audio Input and Output
It shoots 1920 x 1080 in either the lossless CinemaDNG RAW or Apple ProRes 422 (HQ) format. You won't see that resolution on a DSLR, unless you're shooting RAW. There's no visible aliasing or moiré patterns. The highest frame rate is 30p.
The HDMI output is 10bit, 4:2:2. The HDMI output can be set to a naked "clean feed" or with visual overlays added. The live HDMI also has embedded audio unlike most DSLRs. The camera and its lens mount are metal. Only the buttons and the LCD screen are plastic. The active 4/3 lens mount accepts inexpensive adapters, so almost any lens can be adapted to the camera. Audio input is 3.5mm for unbalanced line level sources, unless you add an adaptor to accept XLR inputs.
The camera eats batteries, but it uses Nikon EN-EL20 batteries so you'll want to get several. You can get knock-offs for less than $15. The camera's LCD screen is pretty low contrast so on a sunny day, you'll want an external monitor. There are no VU meters or other sound level indicators so an XLR adaptor or external audio may be required for some shoots. There have been a few firmware updates and they may continue. You'll probably add a cage and other external devices.
There is a simple time-lapse mode. It even builds the time-lapse for you so the time lapse is viewable in playback mode.
There are only two profiles to choose from – film or video. The film profile will require grading in post, but gives you many more options. The video profile is best if you will not be grading the image. This camera is made for color correcting the footage in post. It is designed for professionals who want a filmic look rather than a realistic look. When you do color correct and grade this footage, you will be grateful for all the information in the image. The difference between the 10 bit footage from this camera and the typical 8 bit footage that is typical for DSLRs is giant. There is much more detail. The sharpness is stunning and gives you many more options. But you'll want to learn the basic of color correction before you shoot with the film profile of this camera.
The crop factor turns a 50mm lens into 150mm so unless you have a very wide lens, hand holding this camera may not be a good idea. Image stabilization will depend on the right lens and firmware. The ISO selections are 400, 800 and 1600. At 1600 the grain is very fine and looks much like film.
But man, what image quality for the money!
$995 without lens.